Be Buddhists of 21st Century, Bring Reform: Dalai Lama
by Sukhendu Bhattacharya, Outlook India, Nov 09, 2009
Tawang, India -- Asking his followers to be "Buddhists of the 21st century," Tibetan spiritual leader, the Dalai Lama today asked the community to work for removing evils like superstition and bring "positive change" in the society.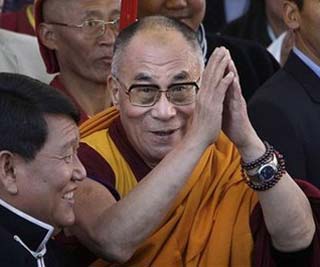 Addressing a large number of people at a religious meeting at the Tawang Higher Secondary School, the 74-year-old monk also harped on the need for peace and compassion in today's world.
Specially referring to the adherence of his faith, the 14th Dalai Lama said, "Let us be Buddhists of the 21st century, acting as harbingers of positive change".
He also spoke about the virtues of Buddhism and said there was a need to introspect so that reforms can take place at the individual and community level.
Clad in a red robe with a yellow shawl, the head of the Gelug sect of Tibetan Buddhism dwelt on proper action and conduct. "Action should not benefit the doer alone but others as well, including all living beings," he said.
He underscored the need to identify certain attributes which harm the Buddhist faith. "Evils like superstition will have to be removed by careful self-examination," he said.
The religious discourse of the Nobel peace prize winner who spoke in Tibetan was translated in Hindi and broadcast to the people who had travelled from different parts of Arunachal Pradesh, Bhutan and some other places.
A key part of the religious event was the distribution of saplings, mainly conifers like pine to be planted in and around Tawang.
Earlier, inaugurating the Kahndo-Dowa Songma Tawang district hospital, the Dalai Lama urged the staff to work with dedication and gave his blessings to all present.
Arunachal Pradesh Chief Minister Dorjee Khandu and high-ranking monks of the Tawang monastery were present.
The people of Tawang are in a festive mood with shops remaining closed and their owners flocking to have a glimpse of the religious leader they consider as "living god".
The Dalai Lama, who arrived here yesterday on a four-day visit, had rebuffed China for objecting to his trip to Arunachal Pradesh and expressed surprise over its claims to Tawang, a revered seat of Buddhism.
The Tibetan spiritual leader is on a tour of this remote north-eastern state after a gap of six years. It also marks 50 years of his escape from Tibet after a failed uprising against the Chinese rule there.