From land of Genghis Khan, a Buddhist monastery for India
By Azera Rahman, IANS, December 13, 2009
New Delhi, India -- Coming up in Bodh Gaya in Bihar is a Buddhist monastery that will be run by Mongolia, the land of legendary warrior Genghis Khan. The envoy of the Central Asian country, Voroshilov Enkhbold, says it will be completed by next year.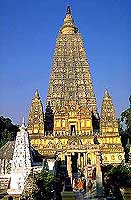 "We believe that the Buddha came from India; therefore all Mongolians hold India very close to their heart," Ambassador Enkhbold told IANS in an interview.
"While pilgrims from Mongolia had always come to India, the Mongolian-run Buddhist monastery in Bodh Gaya, which will be completed next year, is attracting a large number of people from there."
Bodh Gaya, in Gaya district of Bihar, is famous as the place where Gautam Buddha attained "nirvana" or enlightenment. The monastery is a joint effort by India and Mongolia, which is today a Buddhist-majority country.
"In January 2004, an agreement was signed between the Indian and Mongolian governments on a plot of land in Bodh Gaya for a Mongolian-run monastery. In the middle, there was some problem from the local administration there, but now things are going smoothly and the monastery will be completed by mid-2010," Enkhbold added.
India is one of the most preferred destinations for Mongolian tourists and even larger numbers are coming nowadays thanks to the monastery, he said.
According to him, more than 2,000 Mongolians had visited India in 2009.
"We are a small country of less than three million people and half the (territorial) size of India. So, considering that, this is a big number of tourists coming from Mongolia to India," he said.
Pilgrim tourism and now medical tourism are the two big attractions for Mongolians coming to India.
"The Ganga river is considered very sacred in Mongolia. People come to India to collect some of the holy water. In fact, there are a number of Mongolian songs on the Ganga.
"A number of people from the country are also coming to India now to get eye surgeries and for other medical treatments - so medical tourism is also big," Enkhbold told IANS.
Having said that, the ambassador noted the number of Indians travelling to Mongolia was still low and a number of promotional activities like cultural programmes - and now even a golf tournament - are being planned to boost the numbers.
The Grand Chinggis Khan Golf Cup tournament was for the first time organised outside Mongolia, in Delhi, Dec 12-13.
"I have seen that Indians are an ardent community of golf lovers, with a number of beautiful golf courses. So I hope that through this tournament we can reach across to them and promote our country's history and culture," Enkhbold said.
The Mongolian embassy last year issued 1,500 visas to Indians, including businessmen and diplomats. Of them, the tourists count was only 600-700, Enkhbold said.
While IT, biotechnology and education are some sectors in which both the countries are working closely, mining is an industry in which joint ventures are now being worked on.
"Indian corporates like Jindal Steel and MESCO Steel Limited have set up their units in Mongolia. Mining is the latest field in which both the countries are working in close collaboration. We have coal, uranium and iron ore," Enkhbold said.