Warm response from over a thousand Buddhist monks to President at BMICH
Lanka Daily News, June 18, 2005
Colombo, Sri Lanka -- PRESIDENT Chandrika Bandaranaike Kumaratunga received a warm response from over a thousand Buddhists monks, as she spelled out contents of the proposed Post Tsunami Operational Management Structure (P-TOMS) at the Maha Sangha convention at the BMICH last night.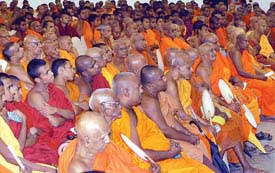 << A section of the Maha Sangha at the convention - Pictures by Sudath Malaweera
President Kumaratunga addressing the gathering stressed that as requested by the Mahanayakes of the Three Chapters, the P-TOMS will be brought before Parliament and it will be in the form of a motion.
"It will not be a Bill or Regulation as misinterpreted by some of the media."
She assured the clergy that there was no need to panic or create chaos situations in the country since there was nothing dubious in the operational structure.
The Government has no intention of hiding the contents from members of the Maha Sangha or the public. It was only on April 29, the Government received a definitive positive response from the LTTE for the P-TOMS.
Accordingly it was decided to inform of the basic contents of the operational structure to partners of the coalition, she said.
Explaining the contents of the P-TOMS, the President said that it is only a five page document outlining two main objectives applicable only to a two km coastal belt in six districts in the North-East.
The first objective will be to identify the tsunami affected institutions, schools, roads, etc in each district and to present the proposed restructuring plans and estimates to the Government.
The second objective met by the P-TOMS will be to observe the smooth running of the development activities and to report to relevant authorities of any corruption or misuse of funds, the President said. Accordingly with the normal procedure, funds will be released by the Treasury, she said.
"How can such a simple operational structure which has lesser number of powers than of a Pradeshiya Sabha and with a life span of one year affect the country's sovereignty, questioned the President.
She said: "It was the JVP that introduced terrorism into this country in 1971 with an insurrection. They have now moved onto democratic politics, so why not give LTTE a chance?"
The President asked with as many as 28,000 Buddhist monks supporting the P-TOMS, how could she bow to dictates of 250-500 monks.
Former President J.R. Jayewardene brought in a new constitution with wide executive powers secretly without going before the people, while Ranil Wickremesinghe signed the ceasefire with the LTTE similarly, she said.