Elephant Eats Scores of Cookies and Gets Sick
By DILIP GANGULY, Associated Press, April 12, 2006
COLOMBO, Sri Lanka -- Sri Lanka's most celebrated elephant, "Raja," has fallen ill after eating scores of cookies, chocolates and other rich food offered to him as part of Buddhist new year celebrations.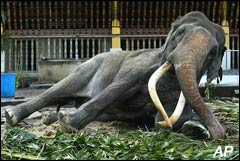 << Sri Lanka's most celebrated elephant, Raja, lies in pain at Gangaramaya temple in Colombo, Sri Lanka, Tuesday, April 11, 2006. (AP Photo/ Gemunu Amarasinghe)
Thousands of worshippers have visited Raja at Colombo's 150-year-old Gangaramaya Temple in recent days ahead of the new year celebrations starting Thursday.
Many have offered Raja, named for the word meaning king in both Sinhalese and Tamil, homemade cookies deep fried in coconut oil, chocolates, rice cooked in thick milk and fermented slices of sweet pineapple, monks who care for him said Tuesday.
At dawn Tuesday, monks found Raja writhing in pain with tears in his eyes.
Monks, a veterinarian and the chief of zoology at Colombo University attended to Raja, 45, who retched and thrashed about in discomfort in his sandy enclosure.
"He likes eating and yesterday many people came and offered him all sorts of things," said Kirinde Assaji, the 37-year-old monk who led efforts to help Raja.
Elephant's mostly eat vegetation, and their digestive system can not easily cope with rich or processed foods, veterinarians said.
"We presume he has got a severe infection through bad food and is unable to purge normally," said Tissa Ratnasuriya of Colombo University's Zoology Department. "The cookies ... literally are soaked in oil and those were given to Raja. He is under severe pain."
For centuries, aristocratic families in Sri Lanka kept elephants captured from the wild. The presence of an elephant, preferably a bull elephant like Raja, is common at big Buddhist temples in Sri Lanka, where Buddhism is the majority religion.
A century ago, 10,000 to 15,000 elephants roamed wild in Sri Lanka, but today only about 3,000 remain, largely because of poaching and loss of habitat.
The monks on Tuesday hung a handwritten notice by Raja's enclosure that read: "Do not feed the elephant."