Sri Lanka faces shortage of monks
Source: Sinhale News, The Buddhist Channel, Aug 11, 2006
Steps to protect and foster Buddhism needed
Colombo, Sri Lanka -- Poson Poya which gave us the Buddha Sasana as well as Buddhist culture and civilisation is a good occasion to discuss steps that should be taken to protect and foster the Sasana here at home.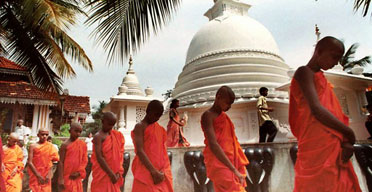 << Sri Lanka is facing a shortage of learned monks
It has been reported that over 350 temples have been closed down for want of monks. If this trend continues, what is going to be the future of the Buddha Sasana? This is a question we need to ask and take immediate action to arrest the problem.
As part of the 2550 Buddha Jayanthi programme, a campaign to ordain 2550 within the Buddha Jayanthi year, began on Vesak day, a month ago.
Let us examine as to why we are confronted with such a shortage of monks. Firstly, with increasingly small families becoming the trend in the country during the last couple of decades, many families are not in a position to give a son away.
Secondly, a fair number of monks after receiving their higher education, mostly university education, paid for by lay custodians of temples, give up robes. Unless the monks are employed as teachers, they would have to depend on the offerings of devotees. Some of them with enlarged horizons due to higher education and aspiring for post-graduate qualifications or more comfortable lives and wanting to live in urban areas, leave rural temples and abandon monkhood. It is known that temples in remote rural areas undergo a very hard time since the people themselves leading a hand-to-mouth existence find it difficult to feed the temple monks.
We may also recount here that a campaign in 2001 to recruit 2,000 children into the monastic order with an initiative of Mr. Ratnasiri Wickramanayake, the then Prime Minister and Minister of Buddha Sasana order met criticism. The criticism came from Gananath Obeyesekere who said children should not be ordained, and that older people should be recruited as they have a good knowledge of the Buddha's teachings. In response, an official in the Ministry of the Buddha Sasana interpreted Obeyseker's views as a conspiracy to wipe Buddhism from the country. Obeysekera who has done much to misinterpret Sri Lankan Buddhism had also forgotten that lay schooling at boarding schools begins at a young age.
A novice monk develops a close reverential tie for his upajjhaya (preceptor) monk, similar to a father-son relationship in a lay family. I have been told by scores of Cambodian young monks whom I had brought to Sri Lanka for studies that the head monk spent long hours teaching and training pupils. In a post-civil war Cambodia, they never experienced this because the older monks who were heir to that Buddhist tradition had not survived. I also found that the younger the novice monk, the better he would adopt to monastic life. It is the strong bond between the teacher and pupil that kept the continuity of the monastic tradition from generation to generation. When the preceptor becomes old and feeble, it is his pupil who looks after him like a loving child with gratitude.
If the custom of ordaining children did not exist, we would not have been fortunate to have the erudite scholars and disciplined monks though the centuries. Even today, among the Theravada countries in Asia, Sri Lankan monks stand out as the most accomplished in the study of the Dhamma, as well as the most qualified in terms of possessing university degrees.
Next to the Sri Lankan monks, come the Burmese. The knowledge of Pali and the Dhamma among Thai monks is certainly much less than that of Sri Lankans. Cambodians and the Laotians have a long way to go.
Although today, in Sri Lanka too, less numbers of monks study in pirivenas and large numbers prefer university education, it is important to note that History, and Buddhist Civilisation are still their preferred subjects at university and only a very few have ventured into subjects like Economics. Those Sri Lankan monks who head temples outside Sri Lanka are well versed in Pali and are a competent lot.
Properly nurtured monkhood can be turned into a force again.