Buddhist monks protest Bollywood show in Sri Lanka
Press Trust of India, Dec 6, 2004
Colombo, Sri Lanka -- Sri Lanka's Buddhist clergy today stepped up a campaign against a concert here by Bollywood star Shahrukh Khan and his troupe saying the carnival coincided with the death anniversary of a monk.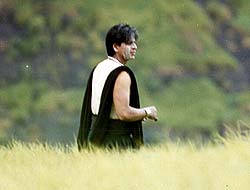 The all-clergy National Heritage Party (NHP) said they opposed Saturday's show because it would be a disrespect for popular monk Gangodawila Soma who passed away a year ago.
Soma's death caused controversy here because the monk had been a strong campaigner against "unethical conversion" of Buddhists and Hindus to Christian sects.
The show by Indian stars titled "Temptation 2004" is being snapped up at Rs 10,000 (100 dollars) a ticket.
"We are expecting fans from neighbouring countries like the Maldives as well as from places like Malaysia and Singapore," a spokesman for the organisers said.
He said they expected over 20,000 fans for what is billed as the biggest musical event this year.
The show by Indian stars, including Preity Zinta, Saif Ali Khan, Priyanka Chopra, Javed Khan and Celina Jaitly besides Shahrukh, cost twice as much as the concert by Air Supply which plays at an open air rugby grounds a day before the Bollywood concert at Colombo's former Race Course.
NHP said they suspected a "conspiracy" to stage the Hindi musical show on the first death anniversary of the monk. "We will stage peaceful demonstrations to block the show," an NHP spokesman added.
The National Organisation of Buddhist monks urged the government to cancel the concert and help save foreign exchange leaving the island nation.