A simple life
By Deepal V. Perera, Pix by Samantha Perera, Daily Mirror, Feb 21, 2007
Kananvila, Sri Lanka -- On a mountain top located in Kananvila off Horana, there exists an institution called Dekanduwela Meditation Training Centre, engaged in helping people to save themselves by means of controlling one's mind and self .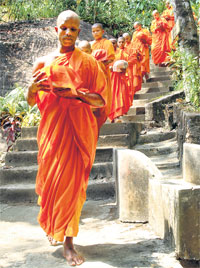 At Dekanduwela the uniqueness about the place is that it helps out people, (men and women) lead a simple life for 14 days and learn Buddhism, meditation and live like a monk for two weeks.
"What we offer here is that we give an opportunity for all men and women to become a monk for short period and thereby give an opportunity for them to learn and practice how to pay homage according to Buddhist rituals and principles" said care taker of the Dekanduwela Meditation Training Centre Bhikkuni Ma-inoluwe Dharmashanthi.
According to Bhikkuni Dharmashanthi ever since the 14 day monk hood programme was introduced in 2003, it has become very popular among both young and old irrespective of their religion and gender.
"Most of the people who come here are students, graduates, professionals and fathers and mothers from various social standings. By being here they can understand more about Buddhism and practice accordingly. As for Sri Lanka this concept is considered as new but for other countries like Thailand, Malaysia, Cambodia, Singapore, Myanmar and Vietnam, the concept of people taking into monk hood for a short period has been in practice for a long time" the Bhikkuni said.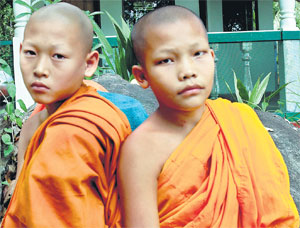 "The main reason to introduce a 14 day monk hood is to facilitate working people where they can attend the programme with out any difficulty. To join the programme one has to apply for it and the age limit is set between 18 years to 45 years. After the ceremony accordingly the participants will be ordained as Buddhist monks or nuns. For women shaving of their heads is not necessary but they will only be allowed to wear sil clothing. At the time they will be conferred names and during their period here they will be referred only by that name.
Every day the training sessions start at 5.00 in the morning and is scheduled to end at 10 pm. The process also involves training on homage to Buddhist rituals and that includes a daily Buddha anusasana by the senior chief monk.
"Most of the people who come here are highly involved in today's active life style and they have become slave to it. As they come here during the first few days, they find it difficult to adjust from their lay life. The quiet and peaceful surroundings, cut off from the rest of civilization make students under stand the importance of the simple life style and meditation helps to calm their mind".
" Through our experience we have found that people who under went short term monk hood do better in their life. They become even more religious minded and respect others than ever before.
This training also involves getting people back to the temple and understanding the Buddhist monks better, as they also have gone through the same process.
On the other hand there are many people who want to join the monk hood but because of their other commitments such as marriage and children, they are unable to do so. Our service is also aimed at people who want to become monks for a short period and learn about Buddhism better than before. After the training we also give them a certificate. .
When Life visited the Dekanduwela Meditation training centre, the on going training programme was for women.
According to Bhikkuni Dharmashanthi upon receiving the applications, they will be sorted out on gender, age and accordingly the progamme will be divided for the time period. "Once we conclude this batch we will be switching to males and the Buddhist monks will take over training sessions and it's a continous process where we teach Buddhism in a different way." Bhikkuni Dharmashanthi concluded.
The Dekadunwela Meditation Training Centre is managed by the Buddhist Cultural Centre of Nedimala Dehiwala.