Commemorative stamp issued on first Sri Lankan Buddhist Mission to Germany
The Buddhist Channel, Aug 22, 2007
Colombo, Sri Lanka -- The Sri Lanka Government's Philatelic Bureau has issued a commemorative postage stamp and First Day cover to mark the First Sri Lankan Buddhist Mission to Germany 50 years ago (1957-2007).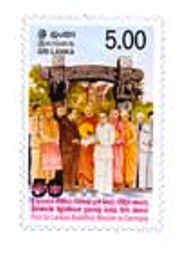 This is the second time that a Sri Lankan Postage Stamp depicts a scene in Germany has been issued on the cover of the stamp. It also shows links between Germans and Sri Lankans via the noble path of Buddhism.
The picture in the stamp depicts the First Sri Lankan Buddhist Mission handing over the gift of the Dhamma to a delegation of Germans in front of Das Buddhistische Haus ( Berlin Vihara ) in Berlin - Frohnau in 1957.
The commemoration event will launched today and the Chief Guest at the ceremony will be Public Administration and Home Affairs Minister Karu Jayasuriya and the Guest of Honour will be the German Ambassador in Sri Lanka, Juergen Weerth. Special Guests of Honor will be Posts and Telecommunications Minister Rauff Hakeem.
A public lecture by Dr. Karl-Heinz Golzio, University of Bonn, Germany on "The German contributions to Theravada Buddhism and the Reception of Buddhism in Germany and its influence on German culture," will precede the issue of the commemorative stamp.
The Goethe Institute and the German Dharmadutha Society is jointly organizing the lecture to shed extensive light on the century-old ties between the countries through Buddhist links. The lecture will in particularly discuss the contribution of German monks and scholars to Theravada Buddhism and the Sri Lankan Buddhist Missionary efforts in Germany commencing in the mid 1950s.