Goethe-Institut: Buddhism to the fore in 50th anniversary programmes
Sunday Times, Aug 19, 2007
Colombo, Sri Lanka -- The Goethe-Institut, German Cultural Centre in Colombo, celebrates its 50th anniversary this year with several programmes related primarily to Buddhism. The programmes started in February and will continue till December.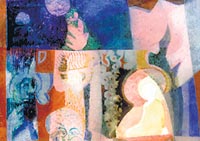 << Painting by Ven. Bhikkhu Sumedha Thera
The series began with a film and slides presentation by Beat Presser, a reputed Swiss photographer on February 22 coupled with the launch of his book "Oasis of Silence". In the same month architect Shereen Amendra gave a talk on the occasion of the "Architecture and Religion" exhibition coming from Germany.
The exhibition, 'Architecture and Religion" for the series "Made in Germany" was displayed at the Goethe-Hall from February 27 to March 11. On August 21 the Goethe Institut will present an exhibition of original paintings, films and installation – "The Truth is Unbelievable" – a life work by Ven. Bhikkhu Sumedha Thera. The exhibition is curated by Cora Lang.
On August 22 there will be a conference by Dr. Kari-Heinz Golzio of the University of Bonn on "Contributions of Germans to Buddhist Studies in Sri Lanka".
The main programme, a two day seminar on the topic "Buddhism and Youth" will be held in Kandy on August 22 and 23. On August 23 there will also be a presentation of the musical "Ratnavali" – touching upon the split of Theravada and Mahayana Buddhism in Sri Lanka in ancient times.
On September 8 there will be a gala concert with German and Sri Lankan musicians, followed by a reception on the lawns of the Goethe-Institut. The 50th Anniversary Commemorative Booklet will be released along with an exhibition of the posters created on the occasion of the 50th anniversary.
On September 10 "Return to Sender" – a modern dance performance by Helena Waldmann and a troupe from Germany will be held at Waters Edge. September 23 will see a Gala concert with the "Signum Quartett" from Germany (in collaboration with and at the British School in Colombo).
Come November, there will be an Exhibition on Youth: "Jung.de" – addressing the issue of learning the German language around the world. The celebration ends with an exhibition of photographs and photographic workshop with Jaroslav Poncar of the University of Cologne, Germany. He will display photographs from the Himalayas, Tibet and Ladakh from December 10 to the 18.