Advisory Committee to promote tourism between Sri Lanka, Buddhist countries
by Nadira Gunatilleke and Manjula Fernando, Lanka Daily News, Sept 13, 2007
COLOMBO, Sri Lanka -- The Government has already made arrangements to upgrade the tourism industry. Under these arrangements, an Advisory Committee consisting of 27 Bhikkhus representing all three Nikayas has been appointed with the intention of promoting tourism between Sri Lanka and other Buddhist countries, Media Minister Lakshman Yapa Abeywardena said.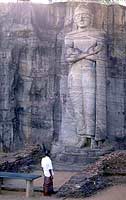 Addressing the weekly press briefing at the Government Information Department auditorium yesterday Minister Abeywardena said that steps will be taken to promote tourism focusing on historical Buddhist shrines. Ties between China and Sri Lanka have been strengthened after President Mahinda Rajapaksa's recent visit to China.
Arrangements have also been made to enter into an agreement with the Maldivian Government to act as one country when taking decisions related to the tourism industry.
An agreement had been signed with Israel to get more tourists. All citizens of Israel go abroad during their vacation, received just after compulsory military training and earlier they were spending their holidays in Thailand and other countries.
Under this agreement, they will also select Sri Lanka to spend their holidays. This will also attract more tourists to Sri Lanka.
Minister Abeywardena also pointed out that there is a 19 per cent increase in the number of tourists visiting Sri Lanka from the Middle-East and this will be increased up to 25 per cent within the next few months.
France and the Netherlands have already relaxed their travel advisories pertaining to Sri Lanka.