Assisting women, teaching a Buddhist way of life
By Vidushi Seneviratne, Sunday Times, Oct 28, 2007
Colombo, Sri Lanka -- In this fast-paced world where materialism, competition and the need to succeed, supersede most other aspects we should be focusing on as human beings, religion too seems to be gradually losing its significance.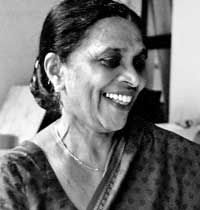 << Dhammacarini president Sushila Gunawardane
The members of Dhammacarini, an organisation that strives to keep religion intertwined with the lives of people, especially women, unknown to most, have, for many years been working together with Bhikkunis, to help women uplift themselves in many areas in the island.
Lady Chrysobel Rajapaksha, along with Theja Gunawardane and Rathna Dias established Dhammacarini in 1976. "The founders of this organisation were strong-minded ladies and were also involved in Buddhist work. They did lots of activities involving both children and adults, helping with education, as well as assisting quite a number of Bhikkuni and Dasa Sil Maatha Aramayas (places for female monks to live in)," says present President Sushila Gunawardane.
According to its constitution, there are four objectives of Dhammacarini: to establish and maintain a residential facility for women who wish to lead the life of an Anagarika, permanently or on a temporary basis, within the city of Colombo; promote Dhamma study, or meditation; promoting the Dhamma actively or through service among the community, and engaging in Buddhist education and work, among adults and children. The organisation's overall aim is to sustain and protect the Bhikkuni Sasana in Sri Lanka, being one of the few countries in the world where women are allowed to take to robes.
A few years back, Suvimalee Karunaratne took over as President of Dhammacarini and held office for seven years, during which time the activities of the organisation took a more literary approach. "During this time, there were many Buddhist talks and writing programmes for both adults and children, and these activities continued until our President relinquished lay life and took to robes. Ms. Karuna de Silva took over next, and during her time, Dhammacarini had more of a social outreach," Ms. Gunawardan says.
Through Theertha Yaathra, a fundraiser they collected money to help a school in Hiniduma close to Galle when the area was affected by heavy floods some years ago. "The children had many needs and we were able to donate uniform material, books, stationery and other essential items," Mrs. Gunawardane says. They also helped children from 'problem' areas in Colombo. "We worked closely with the Ranminimuthu Lama Samaajaya, a social work centre in an area with lots of crime-related problems. An injured soldier was working on his own to steer the children away from crime and we assisted in various ways," she said.
It was around this time that the members of Dhammacarini thought of getting Bhikkunis and Dasa Sil Maathas involved in their work. "We invited Dasa Sil Maathas from all over the country for seminars and workshops to help them figure out their objectives and also ways in which they could assist society," said Ms. Gunawardane. Being women, they had an edge when it came to reaching out to families. And from counselling, to chanting pirith, the organisation got them involved in the social structure, assisting women to empower and organise themselves, and live life the way the Dhamma preaches.
One of Dhammacarini's activities was in Doramadalawa, a village about 10 miles off Mihintale. Here two Dasa Sil Maathas spearheaded a compost manure project. All that the women in the area had to do was sweep their gardens and collect the dirt in bins given to them. "These women led quite a comfortable life, living in an agriculturally rich area, so it was difficult to get them involved, but later, the project, carried on with the assistance of the environmental authorities, became quite successful," she said.
Pre-School teachers were their next target group. The organisation drew in teachers from areas such as Bibile, Anuradhapura, Rajanganaya, Vavuniya, Embilipitiya and Beruwela formulating a special syllabus outlined according to general Buddhist morals. "We chose 30 teachers, for a 5-day, residential programme where we gave them a holistic kind of training, discussing the basics of Pre-School teaching methodology. The teachers were served vegetarian food throughout the training," she said. The organisation has trained around 100 pre-school teachers up to date.
Eventually getting funds from UNIFEM, Dhammacarini was able to go further with their social work, assisting people during and after the tsunami. Rajapaksa Vidyalaya in Ahungalle, although not affected by the disaster, was housing some 400 children from schools in affected areas, and was in dire need of sanitation facilities. "With the funds we received, we were able to build two bathrooms and two water tanks for the school. We were also able to help about 1300 children with school uniforms, stationery and other essential material," she added.
They have also launched books such as The Madaara Flower Salon by Bhikkuni Waskaduwe Suvimalee (she received the State Literary Award for her book The Vine), and also Delightful Tales, a children's book based on the twenty-one Jaathaka stories, written by Bhikkuni Sudinna, and illustrated by Sybil Wettasinghe.
"Yet another activity carried out by the organisation was a "Vegi Fair," held last year, which had a large public participation. We had an array of Sri Lankan, Indian and European vegetarian dishes, prepared by members and well-wishers, and the event was a huge success ," Mrs Gunawardane explained.
Dhammacarini produces a bi-lingual newsletter every six months, with various educational and informative articles, to which the public too can send in contributions. The organisation also produced four Buddhist greeting cards last year, to commemorate the 2550th Buddha Jayanthi.
The organisation's main event for this year held this month was a demonstration of making bread, cake, cookies and other baked items with the use of rice flour. The demonstration was conducted by an official from the Post Harvest Research Institute, Anuradhapura along with its staff members. "The programme was highly successful with women and even a few men from all over the country participating. This method is ideal for women already in the baking industry, and also people interested in becoming an entrepreneur in this field," added Ms. Gunawardane.
According to Ms. Gunawardane, while there are about 600 Bhikkunis in Sri Lanka and many Dasa Sil Maatha Aaramayas in the country, Bhikkuni Aaramayas are fewer in number. "For those interested in visiting these Aaramayas, the Saakya Dhiththaa Meditation Centre in Gorakana, Panadura is one such place, while there are many more in areas such as Navugala, Kegalle, Oluboduwa, Horana and so on. I must say these great women who have taken to robes are disciplined and uphold their responsibilities to Buddhism impressively," she said.
Those interested in joining or assisting Dhammacarini, can contact the organisation at No. 996, Maradana Road, Colombo 8, or on 2678334 or 5620908.