A life dedicated to social service
By Ramesh Uvais, Daily Mirror (Sri Lanka), Nov 5, 2007
Ven. Pelpola Vipassi Thera talks of plans to create a disciplined future generation

Colombo, Sri Lanka -- The foremost person who made the biggest sacrifice for the welfare of all worldly beings was the Buddha. Buddhahood is the most coveted position a human being could attain. To attain this position one has to fulfill ten ordinances.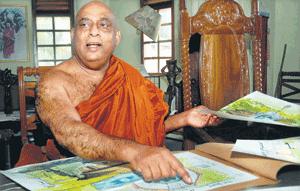 << Ven. Pelpola Vipassi Thera
The first ordinance is gifts of the highest kind. Hermit Sumedha decided to forego his opportunity of attaining the bliss of Nibbana before Deepankara Buddha in order to fulfill these ordinances through 'Suvisi Asanka Kalpa Lakshaya' and attain Buddhahood in order to help worldly beings to follow the path of attaining Nibbana.
He gifted everything including blood and his body parts to achieve this sublime objective. He even gifted his life for the welfare of others. He once said," If anyone knows the merit of accruing from alms giving, one will not partake his meal without at least gifting a spoonful of food to satiate the hunger of another."
This is how Ven. Maduluwawe Sobitha Thera tried to describe the real self of globally recognized Ven. Pelpola Vipassi Thera, during the third anniversary of the Pelpola Vipassai Foundation held about eight years ago. "It is this identical path which Ven. Pelpola Vipassi Thera has decided to follow," the respected prelate said.
Ven. Pelpola Vipassi Thera who has been conferred the 'His Holiness' supreme title by the World Religious Federation in Japan, in recognition of his exemplary role in playing enormous roles towards social, educational and economic welfare of Sri Lanka over the past few decades.
His dedication to social and religious upliftment based on the Buddhist doctrine is outstanding. Ven. Vipassi Thera has single handedly formed the central base for promoting and fostering, religious, social and economic ties and vital links between Sri Lanka and Japan resulting in a large number of individuals, organizations and our country benefiting as a result.
The Thera who received his primary monastic training at the Vidyodaya Pirivena where learnt the Dhamma with dedication, enthusiasm and sacrifice, later proceeded to India in 1970 for missionary work and was attached to the Mahabodhi Society.
His social service career started after his appointment as Deputy Administrator of the Calcutta Branch of the Mahabodhi Society of India.
Then he performed with distinction the administrative functions of various Buddhist centres. He was responsible for providing facilities needed by Buddhist Pilgrims and in another instance he acted as a Dharmmadutha, propagating the pure teachings of the Lord Buddha.
Thereafter to further propagate the teachings of the Buddha in association with Buddhists in Malayasia, Thailand, Korea, China he finally proceeded to Japan in 1974.
While in Japan through his wide and profound knowledge in the Dhamma he developed a close rapport with minent Japanese Bhikkus, Buddhist organisations, philanthropists and leading businessmen almost instantly.
This paved the way for the formation of a base for the establishment in Sri Lanka, of Buddhist charitable institution. Japanese bhikkus, philanthropists and businessmen had a tremendous love and liking for the Ven. Pelpola Vipassi Thera.
They then donated large funds amounting to millions of rupees which was utilized exclusively for causes of the Sasana, for renovating and building of a large number of Dagabas, Dharmasalas, Buddhist temples and other mega projects.
The Peace Pagoda set up at Sri Pada, the Japanese funding for Samanalawewa and Moragahakande reservoir projects, the construction of the Sasakawa Hall in Kollupitiya with Japanese aid, the main contribution towards the construction of the Vijaya Kumaratunga Memorial Hospital at Seeduwa, the construction of a ward at the Castle Street Women's Hospital in Borella are just a fraction of projects coordinated and initiated by the Thera.
It was Vipassi Thera who initiated the President's Fund during the regime of President J.R. Jayewardene who started it with a 1000 rupee deposit. Ven. Vipassi Thera almost immediately swelled the account with a contribution of Rs. 40 lakhs by the Thera.
The uniqueness in Ven. Vipassi Thera is his unselfish nature and his lifestyle devoid of jealousy and hatred. He has been always willing to help the needy without any discrimination on caste, creed, religion and community and most importantly is not affiliated to any political party though he associates with politicians belonging to all colours.
During an interview with the Daily Mirror at the Pelpola Vipassi Foundation in Borella, the Thera said he had not only helped the construction of temples, but also places of worship belonging to other religions.
Ven. Vipassi Thera who is the President of the All-Religious Federation in Japan, said unity between all religions and especially people of all races, is a crucial factor for peace in Sri Lanka.
"The majority needs peace today and we will have to work hard towards achieving this. Killings and the war will not bring peace. We should identify and kill the problem instead of killing the people. We should educate the children on these issues and create a new generation which will think afresh. Like in the past we should have mixed schools where children belonging to all religions study together. We should not promote discrimination.
We should not be narrow-minded and at the same time we should alleviate poverty. Peace cannot prevail in a country hit by poverty. So, urgent moves must be taken to alleviate poverty. We should diminish all gaps among all ethnic groups and teaching all three languages to Sri Lankans is the best way to do so. This language barrier has been a key factor in understanding each other.
The Thera established the Japan-Sri Lanka Friendship Free Nursery School in Borella on March 10, 1981 to mark the visit to Sri Lanka of the then Crown Prince Akihitho.
This school which was initially housed in a small structure with a staff of only 5 teachers and 75 students irrespective of social status, now houses about a thousand students. All these expenses were met by Japanese philanthropists.
Today Ven. Vipassi thera is working on a project to construct the biggest Sri Lankan Buddhist temple in China at Louing City where some 20 million pilgrims visit every year.
"The architectural work has been handled by Naveen Gunaratne. This is in addition to humanitarian projects in Thailand, Japan and other countries," said the Thera.