Sri Lanka: Animal Welfare Bill gazetted
by Janaka Perera, The Buddhist Channel, Dec 30, 2007
Colombo, Sri Lanka -- The Animal Welfare Bill has been gazetted in Sri Lanka as a Private Member's Bill on the initiative of Ven. Athureliye Ratana Thero, Member of Parliament.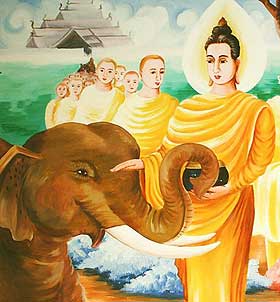 The Bill will next be placed on the Order Paper of Parliament, and thereafter will be referred to the Cabinet Minister or the Deputy Minister who is concerned with the subject of the Bill, for his report on the suitability of the proposed legislation.
Upon the Minister's report being received (or if six months have elapsed from the date on which the Bill was referred to the Minister and no report has been made), the Bill will be made the subject of a parliamentary debate.
A Private Member's Bill can also be challenged in the Supreme Court regarding its Constitutionality within one week of it being placed on the Order Paper.
The Animal Welfare Bill has been long awaited particularly by the growing animal welfare lobby in Sri Lanka, as it seeks to replace the antiquated Prevention of Cruelty to Animals Ordinance enacted by the British colonial Government, 100 years ago, in 1907.
Its inadequate penalties e.g. maximum fine of Rs. 100 (less than one US Dollar) for a heinous act of cruelty to an animal has removed the deterrent effect of this legislation, in the current context, leading to poor enforcement of the statute. It was also a national embarrassment to Sri Lanka seeking to establish modern standards in all aspects of governance by rule of law.
'Mahinda Chintanaya' which contains the election manifesto of the President Mahinda Rajapaksa and upon which he won the public mandate to govern carries a solemn pledge by him to reform animal welfare laws, introduce modern standards in respect to care and protection of animals from cruelty, and thereby lessen the pain of non - human sentient beings who cannot articulate their suffering.
The Animal Welfare Bill aims to accept greater state responsibility for animals. It seeks to provide for the protection of animals from cruelty, to foster kindness, compassion and responsible behaviour towards animals in the community and to establish a National Animal Welfare Authority with wide powers to deal with matters relating to animal welfare.
Some important features of the Bill are the recognition of a duty of care towards animals, creation of new animal cruelty offences with stringent punishments, requiring permits to use live animals for scientific purposes and provision for the appointment of Animal Welfare Inspectors to strengthen the investigation and prosecution processes with powers also to give directions to those in charge of any animal to ensure the welfare of the animal by giving the required care and medical treatment.
If enacted, the Animal Welfare Bill can be expected to inspire and generate a chain reaction in other Asian countries, particularly in the SAARC and ASEAN regions, to update their legislation incorporating modern standards in the way we treat and co-exist with other living creatures.