Love your country not the lady, preach Lankan monks
The Buddhist Channel, February 15, 2008
Colombo, Sri Lanka -- Sri Lankan Buddhist monks countered Valentine's Day celebrations in the island yesterday with programmes to lure the youth away from romantic love which they denounce as an undesirable Western concept.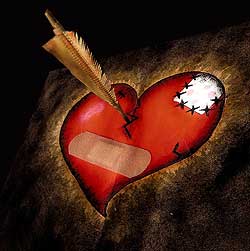 The Jathika Sangha Sammelanaya (JSS), a national organisation of monks, held 'Adishtana' and 'Ashirwada' prayers on Valentine's Day Thursday in a bid to make the youth love the country and the security forces battling Tamil Tigers.
The Daily Mirror on Wednesday quoted JSS president Venerable Induragare Dhammaratana Thero as saying that Valentine's Day involved "marketing love" as a commercial product. It also meant that love should be shown only on a particular day. All this was against Sri Lankan culture, he pointed out.
While special prayer ceremonies to foster love among all living beings were being performed on this day since 2004, this year the accent would be on showing love for the security forces, Dhammaratana Thero said.
Units of the army, navy, and air force would receive consecrated lotus flowers from the youth. After which they would go in a procession to the Buddha statue at the Vihara Mahadevi Park in the centre of Colombo where the rituals would be held.
Valentine's Day, a day to celebrate youthful romantic love, is observed with great enthusiasm among the westernised elite of Colombo and other major towns in Sri Lanka. Shops and retail establishments advertise the sale of special gifts, and hotels and restaurants announce special programmes for the jet set.
Shops do brisk business with cards and goodies, which the middle class can afford. And now, with SMS becoming a major means of communication, mobile phone companies are bracing themselves for heavy traffic.
Sri Lanka's radical and politically influential Buddhist clergy, however, views all this as "morally degrading". Romantic love, the monks say, is something that has to be displayed only after marriage and at any rate never publicly.
They see Valentine's Day as being part of the West's cultural invasion of Sri Lanka, which began with the arrival of the Portuguese in 1505 and is still to cease, 60 years after Sri Lanka gained independence from the British in 1948.
During Portuguese rule, and Dutch rule which followed it, Buddhism and Sinhalese-Buddhist cultural practices took a severe beating in Sri Lanka.
Sinhalese-Buddhists, who are 70 per cent of Sri Lanka's 20 million people, took Portuguese names and Western dress and marriage and funeral practices that were essentially Catholic.
In the last quarter of the 19th century, and the early part of the 20th, there was a Sinhalese-Buddhist revivalist movement led by Anagarika Dharmapala, who himself had a Portuguese name earlier.
But it is only in the last 50 years that there has been a search for roots and a passion for things genuinely Sinhalese-Buddhist.