SRI LANKA: Victims find solace in prayers
by Koh Lay Chin, The New Straits Times, Jan 8, 2005
MORATUWA, Sri Lanka -- In this grief-stricken country, many are turning to people like Harankave Sunande for comfort, hope and to make some sense of the disaster which hit them on Dec 26.
The 75-year-old monk spends hours every night with survivors in Sri Nyanobase Buddhist Temple, which doubles up as a relief camp in Galle.
A tiny yellow bulb casts an ethereal glow on a group huddled around him as he tells them stories about Buddha?s experiences with hardship. Old women hold their hands in prayer while young children listen wide-eyed to the old man in saffron robes.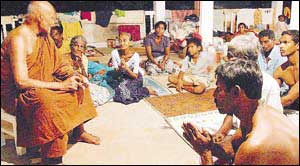 << RAPT ATTENTION: Tsunami victims listening to Sunande?s plea to be patient at the Sri Nyanobase Buddhist Temple which doubles up as a refugee centre in Galle.
"It makes us a little happier to hear the stories," Erandi Edirisinghe, 13, whispers.
Buddhist monks have been going from camp to camp in vans to pass out blessed water. Muslim groups have been travelling from home to home in several areas like Katugoda to talk and pray with those in mourning.
Almost every day, churches hold memorial services and hold special sessions to answer questions such as "How do we understand the tsunami disaster?" and "What answers do we give to each other?"
The harsh reality of reconstruction in Sri Lanka is softened by prayer, says 47-year-old survivor Nande Galappathie, who still insists on staying in a Galle church despite her family asking her to return with them to their home in Pitiduwa.
Religious belief plays an integral role in this country of various faiths, evident by the number of shrines, religious statues and spiritual effigies by the roadside.
With so many struggling to make sense of the disaster which has taken around 30,000 lives, some have even turned to folklore and legend as explanations for why the catastrophe happened.
"Some believe that on the day of the tsunami, there was a ceremony to dot under the eyes of a huge Buddha statue in Kandeviharaya temple (in Aluthgama) for the first time," executive assistant manager of Berjaya Mount Royal Beach Hotel Harsha Jayasinghe said.
He said the dotting under the eyes, a spiritual tradition, was opposed by some who disagreed on the inappropriate timing of the rite.
It is now rumoured among Buddhists in Matara down south, he said, that the ceremony was ominous and brought about the unforgiving tidal waves.
People are also referring to the famous "Vihara Mahad Devi" legend which talks about a curse which caused earthquake in the sea and tidal waves 2,000 years ago, similar to the one which happened on Dec 26.
In the devastated areas in Moratuwa, people are talking about the huge number of Buddhist and Christian statues by the roadside which they say were "miraculously" unscathed by the waves.
Many statues of Buddha and the Virgin Mary, which are placed on stone structures or pillars, still stand while the homes and shoplots directly behind or beside them are destroyed.
"It is strange, but if you travel on Galle Road the statues can?t be missed. You can look left and right and almost all of them are still there.
"I am not sure what to make of it, but I think it could be a sign that it was us humans who had sinned," said Ranjith Athukovale, a local guide.
Another topic of conversation ? the Kachimalai Mosque in Beruwala, which has a large population of Muslims.
The mosque stands on a rocky head land right next to the sea, but suffered no damage on Dec 26.