Buddhist clergy protest against new electricity tariff
The Sunday Times (Sri Lanka), May 11, 2008
Colombo, Sri Lanka -- The chief incumbent of Colombo's Gangaramaya Temple, Ven. Galaboda Gnanissara Thera, has strongly criticised the Government's decision to increase the electricity tariff at religious institutions, and has called for remedial action.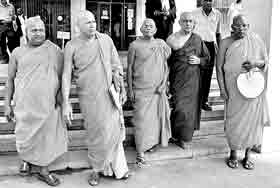 << Monks led by Mahabodhi Society General SecretaryVen. Thiniyawala Palitha Thera leaving the Supreme Court premises after their FR petition challenging the increased electricity tariffs was heard
The text of the statement is as follows:
"Our present Constitution requires that Buddhism be shown the highest consideration by the State, and that places of worship of all religions be protected. The Government's CEB has ignored all places of worship when it drew the new tariff plan, thus belittling all places of worship.
"The late Presidents J. R. Jayewardene and R. Premadasa created the Buddha Sasana Ministry and kept it within their immediate purview. But the last President changed that during her tenure as President. It is a happy augury that the incumbent President took control of all places of worship under him.
"The CEB, on a recommendation in March to the Cabinet, drew up a new tariff that is aimed at a closure of all charitable institutions and places of worship. The new bill for these places exceeds that charged for hotels. "Places of worship aim to enrich citizens' lives and preserve our customs and traditions.
"Although the rate per unit for charitable institutions and places of worship is shown as Rs. 2.50, when the 30 unit margin is passed the rates seem to be blown up 100 to 300 times. This attempt at hoodwinking the President, the PM and the Cabinet seems to be aimed at the destruction of places of worship. It seems a subtle way of disturbing the administration and causing unrest in the country so as to undermine the Government.
"For example, our institute's bill last month was Rs. 20,000, while the new bill exceeds one lakh of rupees. Our centre has received three such bills, and we will have to close down our Kataragama rest centre. Instead of encouraging religious places of worship by providing electricity at low prices, the CEB has increased the tariff. It is a good thing some monks have come forward on behalf of the Maha Sangha to challenge this issue.
"There is a need for all places of worship to join the Buddhists and fight this dangerous stance against religion. All Buddhist places of worship and charitable institutions must band together on the next Vesak Poya day to protest this issue.
"This can be demonstrated by switching off all lights in temple premises during that time and lighting only oil lamps. We cannot allow officials and institutional heads to destroy places that guard our cultural and religious values.
"The administration should not wait till the issue is decided in courts but must hasten punishment of officers responsible for this and ensure the safety of religious institutions and temples. The Government must apologise before Vesak and right this wrong. "Today there are many local and international forces bent on destroying places of worship and religious institutions.
"The Government has done nothing to counter the terrorist movement that exists here in the name of human rights. Let the attention of the State, the Opposition and the President be focused on Tiger terrorism that is wearing the mask of human rights and plundering our religion and our cultural values."