Is nothing sacred on the racetrack?
By Himal Kotelawala, The Sunday Times, June 1, 2008
Colombo, Sri Lanka -- Sri Lanka is considering some diplomatic action regarding cases where a horse named 'Buddhist Monk' and another named 'Buddah' had run in two separate horse races in Yarmouth, England and Tramore, Ireland respectively, last week.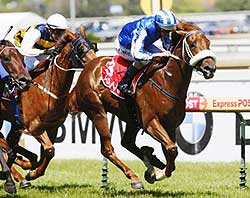 << A race horse named "Buddhist monk"?
Details of 'Buddhist Monk' and 'Buddah' could be found at www.racingpost.co.uk. The latter website also carried a summary of 'Buddhist Monk's' performance. It said " 'Buddhist Monk' had a rug for stalls entry but got away well and was soon tracking the leader. He edged left in the closing stages and was only shaken up by his jockey without resorting to the whip and can repay the kindness in a similar contest,"
'Buddhist Monk' finished the race in second place on Thursday. Its rider was D O'Donohoe and the horse is owned by Lord Derby. The betting was stated as 10:1, meaning if the horse had won, a prospective bet winner would have made Rs. 10 for a Rs. 1 he bet on it. Meanwhile 'Buddah' owned by Joseph A. Shannon and ridden by R.Walsh had come ninth in a field of 14 in a two mile hurdle race on Friday.
When contacted by The Sunday Times, British High Commission media spokesman Duncan William said the High Commission does not comment on such matters. The Foreign Ministry said the matter had been referred to the Sri Lanka High Commission in Britain and a response is being awaited.
-------------
Information of race horse "Buddhist monk" taken from www.racingpost.co.uk
Race horse - BUDDHIST MONK
3-y-o (21 Mar 2005) b g
Trainer: Sir Mark Prescott
Owner: Lord Derby
Breeder: Stanley Estate And Stud Co
Dr Fong(USA) (9.6f) - Circle Of Light (Anshan(9.2f))
3rd foal, half-brother to Majestic Halo, 10f winner at 3; dam a 7f winner at 2, later a fairly smart 1m-10f performer at 3-4, half-sister to several winners over 7-16f, including Champion Hurdle winner Collier Bay