Sri Lanka's Buddhist trail
by Deepika SHETTY, Asian Pacific Post, July 17, 2008
Colombo, Sri Lanka -- Seven out of 10 people in Sri Lanka are Sinhalese and predominantly Buddhist. Buddha statues are to Sri Lankan tourism what castles are to Scotland - you just can't get enough of them.
Sri Maha Bodhi
The country's famous Buddhist trail, which dates back to 247 BC, starts in Mihintale and Anuradhapura in the northwestern part of the country, extends to Dambulla and Kandy in central Sri Lanka and ends in Colombo.
The trail is relatively unspoiled by tourism - there are no tourist traps such as trinket vendors - get there before the world discovers the remote beauty of the Buddhist sites.
The United Nations Educational, Scientific and Cultural Organisation (UNESCO) has declared some of the places as World Heritage sites.
There is more to see than just ancient Buddha statues, frescoes and carvings on the Buddhist trail.
The journey also takes you through forests, past lakes filled with lotuses in full bloom, paddy fields and lush green hill country.
Ideally, this circuit should be done over a week. If you have just a day to spare, then head straight to Kandy to see the famous Temple of the Sacred Tooth Relic of the Buddha.
I skipped the climb to Sri Pada, a 2,234-metre-high mountain which has a large footprint of the Buddha embedded at the top. The Buddha is said to have visited here during His second trip to Sri Lanka in 523BC.
Apart from Sri Pada, I did manage to cover almost everything else on Sri Lanka's sacred Buddhist trail. Here's how:
Day 1: Mihintale:
Mihintale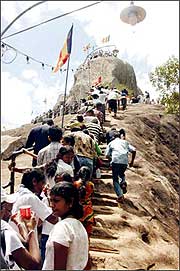 A four-hour drive from Colombo, the city of Mihintale is also known as the cradle of Buddhism.
Buddhism was first introduced to Sri Lanka in 247BC. This was the year when King Devanampiyatissa was converted by Mahinda, the son of Emperor Ashoka, to Buddhism.
Get ready to climb 1,840 steps of an ancient stairway to reach the top of the hill where the conversion took place. A temple was built to mark the conversion. It is the oldest temple in Sri Lanka. Around it you see carvings, guard stones and the remains of 68 caves built for Buddhist monks.
Anuradhapura:
From Mihintale, it is a 30-minute drive to Anuradhapura, one of Sri Lanka's seven UNESCO World Heritage sites.
Founded in the 4th century BC, it was the country's capital for 600 years and is considered one of the great centres of Buddhism. More than 30 kilometres of land in this city is dotted with Buddhist monuments and stupas.
Make sure you visit the sacred Bo Tree. It is said that Arahat Mahinda Thera was given a branch of the Bo tree under which the Buddha attained enlightenment. This was planted in Anuradhapura.
Day 2: Polonnaruwa:
My third stop was in Polonnaruwa, an hour's drive from Anuradhapura. This city is full of old buildings, ruins and Buddha statues. And there aren't too many steps to climb.
To make sense of this city, which is also a World Heritage site, head to the Archaeological Museum and Information Centre.
After seeing how the city is laid out and what the main sites are, drive to see the Vatadage. This is a circular relic house which consists of a small central pagoda. Here, four Buddha statues are encircled by rows of beautifully carved columns.
A long walk in the sun takes you to one of the most striking sites in Polonnaruwa. Gal Vihara, or the Rock Temple, is famous for its colossal Buddha statues carved out of rock. One statue is 14 metres tall. Another is seven metres and in a rare pose with crossed arms, while a third is in deep meditation.
Day 3: Sigiriya:
Make sure you rest well and start early to take on the 5th-century rock fortress of Sigiriya.
Climbing the 1,200 steps is no easy feat, but you are rewarded with a breathtaking view.

Dambulla Cave Temple
At the top is the palace of the famous Sri Lankan King Kasyapa. Not much of the palace remains, but if you do an early morning walk, you can see the sun rise over mountains and large Buddha statues nestled among lush green trees.
Dambulla:
From Sigiriya it takes about an hour to reach Dambulla. Don't panic when you see more steps.
You need to get past just 240 to get to the largest and best preserved cave temple complex in Sri Lanka.
Built under an overhanging rock ledge on top of a hill, this complex of five shrines is home to 153 Buddha statues, including a 15m reclining Buddha.

Sri Dalada Maligawa
Day 4: Kandy:
Kandy was the last stronghold of the Sri Lankan kings against a series of colonial invaders. The main attraction is the Dalada Maligawa or the Temple of the Sacred Tooth Relic of the Buddha.
Constructed during the 17th and 18th centuries, a tooth of the Buddha is enshrined in this temple. Tourists can attend the three religious services that are held daily at dawn, noon and in the evening.
Day 5: Colombo:
Once back in the capital, visit the Gangarama temple. It has donations of Buddhist monuments from all over the world.
Also visit the Kelaniya suburb in Colombo. In 520 BC, the Buddha was invited to preach by the King of Kelaniya. Today, the Kelaniya Raja Maha Vihara is in a park-like setting, just nine kilometres from Colombo.
The main courtyard has a vihara or shrine house, a stupa and a sacred Bo Tree. The vihara has been destroyed and rebuilt many times. Its walls and ceilings are decorated with frescoes.