Sri Lanka: Buddhist academy will help groom leaders
By L.B.Senaratne, The Sunday Times, Nov 16, 2008
Colombo, Sri Lanka -- As a Buddhist country, Sri Lanka is committed to genuine peace, and it is encouraging when other countries recognise this, said the Asgiri Anunayake, the Venerable Panditha Galagama Attahadassi Thera,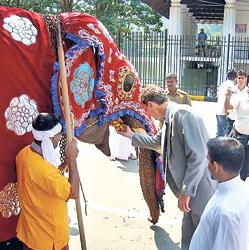 << Norwegian ambassador Tore Hattrem feeds a tusker before signing the memorandum of understanding
The Anunayake Thera was speaking at a ceremony to mark the signing of a memorandum of understanding for the Sri Dalada International Buddhist University, at Pallekelle. The university is being funded by the government of Norway.
Presiding at the ceremony was the Mahanayake of Malwatta, the Ven. Tibbotuwawe Sri Siddhartha Sumangala Thera, who represented both the Malwatta and Asgiri chapters. The Malwatta Anunayake, Ven, Panditha Niyangoda Vijithasiri, was also present.
The Asgiri Anunayake said the Sri Dalada International Buddhist Academy would serve as a centre for training members of the clergy and raising general awareness of the teachings of the Buddha.
In his address, Norway's ambassador Tore Hattrem said he was happy that the academy would be open to students from all backgrounds, and that the curriculum would cover, in addition to teaching the Dhamma, a wide range of subjects, such as languages, social and natural sciences, conflict resolution, and human rights.
"Buddhism is unique in its scientific and logical explanation of the mysteries of life," Mr. Hattrem said. "The Lord Buddha taught us that we are responsible for our own lives and for our environment. The Buddha's teaching that peace should be practised as a way of life is more relevant today than ever before."
The ambassador described the Sri Dalada International Buddhist Academy as a liberal arts higher education institution grounded on Buddhist principles, local and international in scope, and incorporating monastic and eco-friendly elements. He said it was an honour and a pleasure to be associated with such a unique educational project, and that he appreciated the support and goodwill of the Sri Dalada Maligawa and the University of Peradeniya.
The Diyawadana Nilame said that well-educated leaders could transform communities and societies. He said the goal of the academy would be to train future leaders and law-abiding citizens and help build united communities.