Ajahn Brahm in Sri Lanka to discuss Noble Eightfold Path
By D.C. Ranatunga, The Sunday times, Jan 11, 2009
Colombo, Sri Lanka -- "See you soon in Sri Lanka" were Ajahn Brahmavamso's parting words as I bade him farewell at his Serpentine monastery in Perth. That was in January last year. His visit to Sri Lanka has now been finalised and he is scheduled to be in Colombo on Saturday, January 24.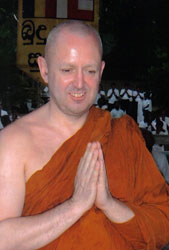 This will be Ajahn Brahm's third visit to Sri Lanka since 2005. He drew huge crowds wherever he preached on his earlier visits. This time too, his visit, arranged by the Sri Lankan Buddhist community in Perth, will be eagerly awaited by everyone irrespective of whether he or she is a Buddhist or not.
The 'Noble Eightfold Path' will be the theme of Ajahn Brahm's discourses with guided meditation too. A number of Ajahn Brahm's books are now available here. His disciple, Sri Lankan engineer turned monk Bhikkhu Abhaya who is now resident here, is doing a great service making these publications available. He has done several translations making it possible for Sinhala readers too to enjoy Ajahn Brahm's discourses.
The highlight of his discourses is meditation, which he calls the essence of Buddhism. "People ask me like the Christians have the Bible or the Muslims the Quran, what do Buddhists have. I used to say there is the Tripitaka and the Sutttas but now I say the holy book of Buddhists is Meditation," he says.
Recently I listened to him elaborating on the two different types of religions – Revealed and Realised. "The revealed religion is the one in which you are told to believe in a holy book or a holy person. You cannot argue about what has been preached in such a religion. You have to believe in what has been taught. The realised religion is different. Here you have to find the way yourself," he explained.
Explaining further, he said: "Buddhism is a democratic religion not an authoritarian or autocratic one. You have a choice. Buddha has asked you to first try it yourself. You can practise and if you don't like it, you can give it up."
Pointing out that Buddhism is a religion which one can feel for oneself, Ajahn Brahm said that when one says, May all beings be happy and well,"one spreads loving kindness.
"In Buddhism, we are taught to realize what is right and what is wrong ourselves. You take responsibility for your actions without blaming anyone else. Blaming others is no solution to a problem. Learn from your mistakes but don't try to punish yourself," he said.
Relating an incident which he will never forget throughout his life, he said how he got a telephone call from a prison official who insisted that he should come again and talk to prisoners. This was after a class he conducted for them a few months earlier. Ajahn Brahm explained to the official that he had a busy schedule and that he had arranged for other monks to continue the classes. "We want you to come," the official insisted. And Ajahn Brahm asked why. He explained that among the prisoners who followed his class there wasn't a single prisoner who came back to prison. This, the official considered a big achievement. "What I had taught them was not to punish themselves, but to forgive – to take responsibility for their actions."
Describing Buddhism as a peaceful, good religion, he stressed that meditation is the way one can develop wisdom, peace and compassion. "With meditation, you become more ethical, more aware. You become honest and mindful. Meditation is the source of Buddhism."
Programme in Sri Lanka
Ajahn Brahm will spend more time in the outstations during the forthcoming tour. The programme starts at the Nauyana monastery off Kurunegala on Saturday, January 24 with a Dhamma talk to monks and lay persons from 8 – 10 in the morning.
The same afternoon he will conduct a guided meditation programme and deliver a discourse at the Arts Theatre, Peradeniya University.
The programme is as follows:
Sunday January 25

8.30 – 11 a.m. – At Navaranghala, Royal College, Colombo
3 – 5 p.m. - At Raja Maha Vihara, Kelaniya
Monday January 26
9 – 11 a.m. – At Kalutara Bodhi Temple
Tuesday January 27
8.30 – 10.30 a.m. – At Elakanda monastery, Matara
Bhikkhu Abhaya will translate the talks to Sinhala.
Wednesday January 28
9 - 11 a.m. – Talk and discussion at BMICH (In English only)
3 – 6 p.m - At Polgasowita Monastery, Piliyandala