Ven. Dr. Bellanwila Wimalaratana Maha Thera appointed Anunayaka
Sunday Observer, Jan 18, 2009
Colombo, Sri Lanka -- Ven. Bellanwila Wimalaratana Maha Thera, deputy chief incumbent of Bellanwila Raja Maha Vihara and Chancellor of Sri Jayawardenapura University was appointed as the Anunayaka of Kotte Sri Kalyani Samagi Dharma Maha Sangha Sabha.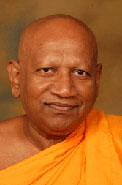 Ven. Wimalaratana Thera entered the bhikku order on 20th February 1956 as a pupil of late Bellanwila Sri Somaratana Nayaka Thera the chief incumbent of Bellanwila Raja Maha Vihara, a historic Buddhist temple located in the outskirts of Colombo. Having received initial education at Molligoda Pravachanodaya Pirivena, he entered Vidyalankara Maha Pirivena for further studies on Buddhist education. After graduation with honours from Kelaniya University and Sri Jayewardenepura Universities he entered the Lancaster University, UK in 1977 and obtained a doctorate upon completion of his research.
Among his educational services were the positions he held as Parivenadhipathi (Principal) of Paramadhammachetiya Pirivena, Ratmalana and head of Bhikku Education Institute. After his appointment in 1981 he served the Pali and Buddhist Studies Department of Sri Jayawardenapura University for 22 years as a lecturer, senior lecturer and professor later.
He served as a Visiting Professor in Buddhism at the School of Oriental and African Studies of London University. Having left the University due to pressure of work he continues to serve the Sri Lankan society and Buddhist public in numerous ways in an excellent manner through religious and social activities.
For more than 25 years, Prof. Bellanwila Wimalaratana Anunayaka Thera has been the Lekhakadhikari (Chief Secretary) of the Kotte Sri Kalyani Samagi Dhamma Maha Sangha Sabha. A monk who serves the religious academia, the Bhikku society and the public in an exemplary manner, he is one of the best preachers in this country. He has authored many valuable books.
While having founded the Bellanwila Community Development Foundation he holds many positions in several civil society organisations. His services rendered through the National Institute of Education, Maharagama, Council of the Post Graduate Institute of Buddhist and Pali Studies of Kelaniya University, should be especially appreciated.