Buddhist priests hails local exporter who helps to keep clean environment
Asian Tribune, Feb 17, 2009
Colombo, Sri Lanka -- The head Priest of Heiyanthuduwa Purana Viharya Venerable Valamitiyawe Seelarthana hailed and awarded a plaque to a local entrepreneur Kaushal Rajapaksha , who holds CEO post of the Kalhari Entreprises , Heyyanthuduwa Sri Lanka recently at a ceremony held at the Heyyanthuduwa Purana Viharaya.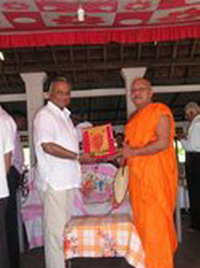 According to the Buddhist priest, Mr. Rajapaksha involves in a number of social works at that area and also award winner of Export Award in 2007 arranged by National Chamber of Exports and the credit brought to the village and also the great social service done by the company.
The priests said Mr.Rajapaksha who introduced plastic recycling process for the area and now he works with hundreds of field workers to end the plastic menace from Sri Lanka.
The priests said Mr.Rajapaksha brings foreign earnings and help society to keep unpolluted environment due to plastic menace.
He said an island wide programme has been implemented by the recent Export Award Winner Kalhari Entreprises , Heyiyanthuduwa to purchase used PET bottles, Heavy Duty Plastics , used Computers Electronic equipment ,any type of post industrial Latex Based or dry Rubber based scraps, used tyres, Tubes, etc which are hazardous to the environment.
Kalhari Entreprises which collects and recycles waste rubber and plastics says this programme is now with the communities
Mr.Rajapaksa said that It is the prime responsibility as Private sector to support the Programmes that have been launched by the state authorities to usefully recycle the Plastic, Rubber and other waste which will not only generate income but also will solve the problems of waste.
At present Kalhari enterprises exports around 100 metric tones of recycled plastics and Tyre Buffing from used tyres to various countries.
The company also follows CSR projects to help village needy masses providing Spectacles, legal services, health services through organized clinics with the support of the Lions Club of Biyagama north. 200 spectacles were donated by Lion Mr.Kanishka Kularetne and Lion Lady Priyanka Kularatne.
According to the company the Kalhari enterprises also introduced a scholarship project to help students who passed year five scholarship examination.