Col. Henry Steele Olcott's 102nd death anniversary commemorated
by Chamikara WEERASINGHE, Lanka Daily News, Feb 18, 2009
Colombo, Sri Lanka -- The Colombo Buddhist Theosophical Society commemorated the 102 nd death anniversary of prominent lawyer, journalist and Philanthropist Colonel Henry Steele Olcott at the Buddhist Theosophical Society Hall on Tuesday.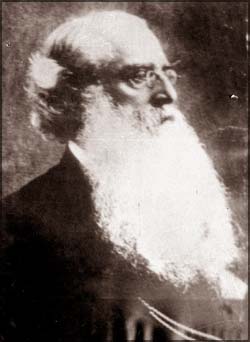 Present on this occasion were Ven. Olande Ananda Thera of the Pagoda Meditation Centre, Ven. Shathrapathi Vitharandeniye Medhananda Thera and Prof. Sumanapala Galmangoda.
The principals from leading Buddhist schools in Colombo, Dhamma School students and members of the Society including its President Sanath P.Weerasekera and Secretary S.Thilak Hewawitharana were also among the present.
Col. Olcott is the founder of National Buddhist schools such as Ananda College, Nalanda College and Visakha, and one who awakened the country's national spirit at a time it was suffering from colonial rule.
Colonel Henry Steele Olcott was also the founder of the Colombo Theosophical Society. He was an American and Christian by birth.
Col. Olcott was responsible for designing the Buddhist flag and getting the colonial Government that existed at the time to declare Vesak Full Moon Day a public holiday in Sri Lanka. He came to Sri Lanka on May 17, 1880 as a result of his reading the copies of famous Panadura controversy by Ven. Migettuwatte Gunananda Thera.
He came with a team of special people, among them Madam Helena Blavatsky of Russian descent, who was the principal founder of the Theosophical Society in America in 1875.
They became Buddhists by accepting the Triple Gem and observing Panchaseela from Ven. Akmeemana Dharmarama Nayaka Thera.
Colonel Olcott marked an era of Buddhist revival in the history of Sri Lanka.
The members of the Theosophical Society paid a floral tribute to Col. Olcott by garlanding his statue at Olcott Mawatha, Colombo11.