Sri Lanka's social reformer and scholar
by Premakumara De Silva, University of Colombo, Lanka Daily News, March 5, 2009
Sri Lanka to issue stamp in his honour
Colombo, Sri Lanka -- Dr. A.P. de Zoysa (1890 - 1968) was something of a polymath. Born in Randombe, Ambalangoda, he had his first lessons in the nearby historic temple, the Maha Samudraramaya, and later attended the Wesleyan school in Randombe and Mahinda College, Galle, where he came under the influence of its principal, the famous Theosophist and Pali scholar F.L. Woodward.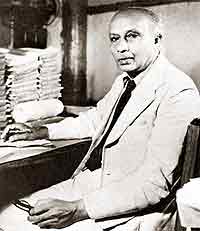 << Dr. A.P. de Zoysa
Moving on to Wesley College, Colombo,.De Zoysa was not only a good student but also a keen cricketer, artist and actor. He taught for a few years at Ananda College, Colombo and at Royal College.
In 1921 he went to England and lived there continuously until 1934 imbibing the best of English culture without abdicating his own cultural heritage. A scholar by inclination, his doctoral thesis in the University of London was in the field of anthropology. The title of his PhD dissertation was "Observation and Customs in Sinhalese Villages" (1928) which he had completed with the guidance of world renowned anthropologist at that time, Bronislaw Malinowski.
Dr. A.P. de Zoysa sustained an abiding interest in his native tongue and religion. Indeed in later life he produced valuable Sinhala-English and English-Sinhala dictionaries which survive to this day. By profession, Dr. de Zoysa was a lawyer, albeit a largely non-practising one and became known as a poor man's lawyer. By choice, he became a radical legislator when he was elected to the State Council in 1936. He supported minority rights, opposed the death penalty and in 1937, brought a bill to outlaw the dowry system which as it was practised in our country in those days virtually degraded women to saleable commodities.
That the Council rejected his Bill is evidence that in that Council, commerce prevailed over humanity. In 1942, he sought unsuccessfully again, to decriminalize sex-workers at a time when that category of workers was both unrecognized and anathematised. While in London he married Eleanor Hutton (1896 - 1981) of Durham, who was from a socialist, secular family, and interested in Buddhism. By training she was a teacher of music and on arrival in Sri Lanka, taught music at Ananda Balika whose principal was Doreen Wickremasinghe.
The de Zoysas had one child, Visakha Kumari. Their wide circle of friends included British artists as well as students from Africa, India and Malaysia, and Sri Lankans studying in Britain, most notably the Buddhist reformer Dr. E.W. Adhikaram and Dr. S.A. Wickremasinghe, the future Left leader.
In 1939 Dr. de Zoysa, who was always enthusiastic to branch out, bought a printing press, and produced a series of books in Sinhala on educational subjects, and edited a weekly paper the Dharmasamaya.
Then he began his ambitious work, the translation of the whole Tripitaka into simple Sinhala so that a larger public could read and understand Buddhist teachings. The project took over 20 years, and with help from Buddhist scholars, he produced 48 volumes. Dr. de Zoysa started on a concise edition of the Tripitaka which he hoped to compress into about ten volumes, but he only got as far as the first two books - the Digha Nikaya and the Majjhima Nikaya, before his death.
He spoke of Buddhism as a liberating, universal philosophy - denouncing superstition, astrology and auspicious times as non-Buddhist practices. Dr. A.P. de Zoysa, who died on May 26, 1968 at the age of 78, never joined any political party, but devoted his energies in support of progressive causes.