Sustainable Tourism through the Buddhist "Trail of Civilisation"
Asiantribune.com, May 20, 2009
Colombo, Sri Lanka -- Minister of Tourism Milinda Moragoda took part in the third annual meeting in connection with the Borobudur Declaration, on the invitation of the Indonesian Minister of Culture and Tourism, Mr. Jero Wacik.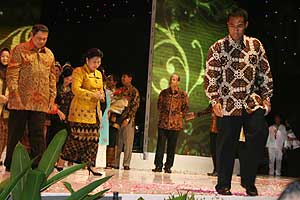 << Left: Tourism Minister Milinda Moragoda looks on as Indonesian President Susilo Bambang Yudhoyono and his wife leave the stage at the end of the cultural performance of The Trail of Civilisation at the Vesak celebrations held at Borobudur, Indonesia.
The signatories of the Declaration: Indonesia, Thailand, Cambodia, Laos, Myanmar and Vietnam agreed in 2006 to cooperate on a 5-year plan of action to preserve and promote, through sustainable cultural tourism, a Trail of Civilization, which links prominent Buddhist heritage sites located in these six ASEAN countries.
Sri Lanka, although not a signatory to the Declaration, was invited to participate at this event both at a ministerial and technical level. Vidya Jyothi Ashley De Vos, accomplished architect, archeologist and preservationist, assisted Minister Moragoda at the sessions.
Through this process, Sri Lanka will seek to link up its prominent Buddhist heritage sites to the Trail of Civilisation initiative and thereby become a bridge between South and East Asia in the promotion of Buddhist cultural tourism and pilgrimages.
This year's meeting took place during the annual Vesak celebrations, which were attended by thousands of pilgrims and participants, and held at the grounds of the historic 9th century Buddhist temple of Borobudur, Indonesia.
On the night of Vesak, a cultural programme was held which revolved around the theme of "Thilakkana", the Illustration of the Message of Lord Buddha. As part of the night's programme, dance troupes from the six signatory countries performed traditional dances dramatizing aspects of the teachings of Lord Buddha.
President Susilo Bambang Yudhoyono was the chief guest. Minister Moragoda joined the six Ministers representing each of the Borobudur Declaratory countries, who were present at this occasion.