Sri Lankan Monk leaves Meditation Retreat to help Refugees
A Special Report by Ven Y. Wimala, The Buddhist Channel, June 7, 2009
Ven Y. Wimala, a recipient of the "Global Peace Award" in 2007, has returned to Sri Lanka to help "internally displaced people" - mostly victims of the island's civil war
Vavuniya, Sri Lanka -- When I arrived in Sri Lanka just days ago, the national flag was flying everywhere. Everyone I spoke with was happy that the war has finally ended. Incredibly, I noticed fewer road blocks and less military presence on the streets than before. It took a while for me to begin to believe that the past 30 years of war had really, really ended and people were celebrating this return to normalcy.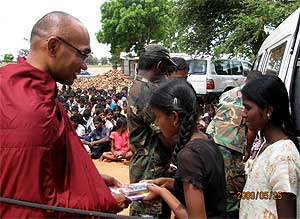 << Venerable Wimala distributing school materials to the children in the IDP camps
The Sri Lankan government has being fighting for the past 30 years a group known as "the worlds most dangerous terrorist organization", the LTTE or Liberation Tigers of Tamil Eelam" During this period of 30 years, over one hundred thousand people have died including the Tigers, civilians and about 22,000 government soldiers. Hundreds of thousands have been injured, displaced and disabled.
Although the guns have become silent, the victims of war continue to suffer. The day after my arrival we drove to Vavuniya, a town in northern Sri Lanka, to visit the refugees now called IDPs (internally displaced people). Since the end of the fighting more than three hundred thousand people have become IDPs .
When we arrived in the area known as Manik Farm where most of the IDPs were settled, there were so many temporary and makeshift buildings. Some areas looked like an endless sea of tents. It is hard to describe the instant feelings of pain, sadness and concern you feel for these innocent people. Those who escaped the war arrived here with nothing but few of their belongings. Obviously there are many problems providing food, clothing and the most basic human needs.
Although it is sad to see so many displaced people I felt the opportunity to be there to help them in some small ways. The following are some of the relief projects we have conducted so far.
School Supplies for 2000 Displaced Students
As you might know from the history of Triple Gem Society, we are always interested in getting involved with projects related to the education of children, especially those who are affected by war or natural disasters. The Manik Farm area has been divided into four zones. Brigadier Wikramasinhe, who is in charge of Zone 1, informed us of the need for school supplies for students in grades 8, 9 and 10. These children have missed school for past few months due to the heavy fighting in the area. Arrangements are now being made to start schools immediately in temporary huts. When I arrived in Sri Lanka, Ven. Subuthi who invited me to serve the IDPs, had already organized the purchase and transportation of the school supplies. I simply had to pay the bills and take the materials to the IDP camps. We were happy to help these two thousand students with notebooks, pens, mathematics equipment boxes and other essential school items.
Clean Water in 25 Giant Plastic Tanks.
When I was touring the IDP camps for the first time, I noticed long lines of people. Some of them were waiting in patiently with individual buckets to get fresh water. When I inquired as to the situation from Brigadier Wikramasinhe, he told us that many more holding tanks were needed to supply water to such large number of people. The next day we arranged for 25 huge plastic water tanks, most of them 1000 Liter capacity, to be delivered. I was happy to participate in distributing them throughout the IDP camps.
Hindu Temple
Day by day, people are still pouring in and settling into temporary shelters or tents. To help implement a sense of normalcy as quickly as possible, the government is busy preparing and planning for schools and places of worship. The Hindu temple in Zone 1 is a temporary hut with a thatched roof and no walls or floor. People were sitting on a plastic cover on the sand to attend worship and religious ceremonies. We worked with a local contractor to lay bricks, build a cement floor for the temple and build a shrine. We also donated statues of gods to create a proper temple atmosphere.
Robes for 75 Hindu Priests
The government hves created a separate section for Hindu Priests in Manik Farm, where thousands of families have moved into temporary shelters. There are currently about one hundred Hindu priests in this special section. When they left the war zone few weeks ago they left all of their prior belongings behind. Most of them came with only the clothes they were wearing. We provided seventy five priests with the robes that they wear to perform Puja or religious ceremonies. Some times it is these small simple deeds that bring the smiles of gratitude.
Bicycles for Village Heads
The houses in this special IDP region are spread out over a large geographic area. The civil servants who were working in the former villages at the time of the war have now been reemployed in the IDP camps as head of separate zones. When meetings are called it takes them a long time to come together from their various locations. When I was informed of this transportation problem by the camp manager, we were happy to donate bicycles to the heads of separate camp zones.
Semi-Permanent Housing for 250 Tamil Families
We have competed preparations for building 250 units of semi permanent housing for displaced families. The land, contractors, design all are ready. This project will be completed with Triple Gem Society funds. As the first phase, housing for 100 families will be competed within six weeks. We will sign the contract within the next day.
At the moment, housing is the most urgent need for these displaced victims of war. We can not yet know how long people may have to stay in these camps; current government estimates are 6 to 12 months. Decent living conditions will make a world of difference in improving normalcy and aiding in disease prevention.
I know that this is a big undertaking. Triple Gem Society is a small organization and humanitarian projects are not our primary focus. Even so, I feel compelled to do everything I can to help the IDPs after seeing the conditions in the camps and hearing what these people have gone through to simply survive these past six months.
Since the buildings will be semi permanent, the final cost per unit will be about $2000 US. I know it is a lot of money to think of building 250 units. Please do not get concerned. If we think of just one family at a time, we all can do this together.
------------------------
Donations can be made to the Triple Gem Society by bank draft, TT, credit card, etc or visit the website www.bhantewimala.com
Triple Gem Society
P.O. Box 713, Princeton,
NJ 08542
USA