Buddhists blast carrot-and-stick compassion
by Janaka Perera, The Buddhist Channel, March 22, 2005
Colombo, Sri Lanka -- Buddha Sasana Minister Ratnasiri Wickremanayake on March 19 blasted bible-toting bogus charities that were exploiting the tsunami disaster.He was addressing the two-day Global Buddhist Conference on ?Buddhist Humanitarian Services in a Post-Tsunami Context? that commenced at the BMICH, Colombo, Sri Lanka.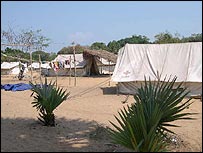 << "Tsunami tents" dot many villages along the Sri Lanka coast
The conference was held to launch an international Buddhist relief organization on the lines of the Red Cross and the Red Crescent with the aim of formalizing Buddhist relief operations that the December 26 tsunami activated.
Said Minister Wickremanayake: ?Some people, who come here in the guise of helping our country in her hour of need, do so with ulterior motives. They have been reportedly engaging in unethical religious conversions. Whatever you may call them, taking advantage of people?s poverty and helplessness is despicable. I say with full responsibility that we as Buddhists condemn such actions whether they are pursued directly or indirectly. We have already warned them. Over 200 Buddhist temples were destroyed or damaged in the tsunami. When we asked for aid some responded but gave hints of their agendas. We told them that we weren?t interested in their aid and asked them to keep their funds. We Buddhists have dignity and self-respect.?
Extending the government?s well wishes to the planned project, Wickremanayake urged the organizers not to confine such an organization to disaster management but also to extend to other areas of Buddhist activity, since there was a wealth of knowledge that Buddhists worldwide could exchange.
.
The Buddhist Resource Centre of the Asian Buddhist Congress organized the conference, where over 500 members of the Buddhist clergy and laity participated. Delegates from Asia, Europe, America and Australia were in attendance. The conference concluded on March 20.
Delivering the keynote address, Asian Buddhist Congress President Olcott Gunasekera said that: over the years some foreign funded non-governmental organizations have become fronts of foreign governments, of Christian fundamentalists aiming at unethical conversions and of separatist movements. According to him, the main criterion for registering such NGOs is the amount of money brought in for the ?3 R? of Relief, Rehabilitation and Reconstruction. After the tsunami, a plethora of un-elected and unrepresentative foreign NGOs had begun to operate in Sri Lanka, Gunasekera pointed out.
He further said: ?There are many vivid instances reported of some of these NGOs brazenly and openly engaging themselves in proselytizing. The tsunami has provided a new ground for unethically `harvesting? souls for Christianity.?
The ABC President regretted that Buddhists were a disorganized lot. Buddhist monks engaged in humanitarian projects often worked in isolation and were unaware of NGO machinations. Consequently, some of them had fallen prey to foreign-funded groups that dangled their dollars in support of their work.

?One cannot discard the allegation as wholly untrue that there is today an undercurrent to destabilize countries using such unrepresentative NGOs. This also is an additional pointer for the need for a truly Buddhist infrastructure to meet disaster situations. The temple and the village base have to be strengthened. They should also have an organization at the national and international levels to support them.?

He noted that the ground was today very fertile for a Buddhist Humanitarian Services Movement and called upon all those present to help in making it a reality.
American-born Venerable Dhammaruchi said: ?The recent tsunami disaster in South Asia, catapulted the need for just this kind of Buddhist organization to the forefront. Why, because, unlike the Red Cross or the Red Crescent, there some psuedo-charitable organizations with a rather cruel agenda of exploitation, which began to surface in Sri Lanka, Indonesia, India and Thailand immediately after the tsunami disaster.?
Calling it ?carrot-and-stick-compassion,? the monk named some of these bogus charities ? World Help, Samaritan Purse and Advanced Native Missions. He alleged that all these organizations had at their core conversion agendas hidden behind their backs, and in some cases, not quite so hidden.
?When Buddhists help other human beings,? said the Ven. Dhammaruchi, ?it?s for the sake of helping other human beings, not for the sake of trying to make more Buddhists; we don?t help another human being and then try to force a copy of the Dhammapada down his throat.?
He lauded the many tsunami victims, who when approached by these groups, refused to accept their help.
?They (the victims) have made it known that the tsunami may have taken away their homes, their family members, their friends and their livelihood; but that neither tsunami nor converters will take away their dignity or their religion. Good for them!?
The Most Venerable Dr. Ayukusala representing the Central European Sangha said? The dignity of the helped people, respect for the cultural traditions, and emphasis on creative solutions are the three main principles of our work.?
Dr. Ayukusala was formerly Prof. Mirko Fryba of Switzerland.
Coordinator, Buddhist Resource Centre, Dr. Hema Goonatillake compared the launching of an international Buddhist relief organization to the historic occasion of the establishment of the World Fellowship of Buddhists over five decades ago.
Among the others who spoke was the Chief Prelate of the Asgiriya Chapter of the Siam Sect, the Venerable Udugama Rathanapala Buddharakkithabidana and the Mahanayaka of the Amarapura Sect, the Venerable Rajakeeya Pandita Davuldena Gnanissara.