Charity knows no limits when disaster strikes
BY LOUIS TEMPLADO, Asahi.com, March 22, 2011
Tokyo, Japan -- The disaster that struck northeastern Japan on March 11 shook members of the nation's foreign community in different ways. Some booked seats on the next flight out; others decided to stay put.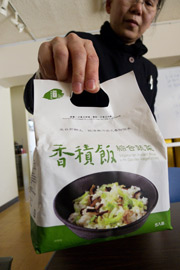 << A package of vegetarian quick meals provided by the Taiwan-based Tzu Chi Foundation for disaster victims (Photos by Louis Templado)
Mako Hayashi was immediately on the phone, frantic to find a community where hot food was needed. She planned to deliver stir-fried vermicelli rice noodles and "mabo-dofu" tofu in chili-spiced sauce to needy people.
A long-time Tokyo resident, Hayashi hails from Taiwan. Her Chinese name is Rin Jyu-zu. She is a volunteer for the Tzu Chi Foundation, a Buddhist charity organization based in Hualien, Taiwan.
The organization claims 30,000 members in 40 countries, the majority distributed in Chinese-speaking nations. Almost 90 percent of the group's members are women, as is their spiritual leader, the nun Cheng Yen, who founded the Buddhist Compassion Relief Foundation in 1966.
Nearly 200 members make up the Japan chapter, almost all of whom are married to Japanese.
"This country has supported us, and we've been able to build lives here," says Hayashi. "At a time like this we're desperate to give something back."
The group had already shipped in thousands of blankets and vegetarian quick meals from Taiwan to its branch in Tokyo. But with local governments deluged, gasoline rationed and roads to the north closed to all but official traffic, it faced the task of getting the relief assistance farther out.
Almost a week had passed before the group found a supply route to Sendai thanks to the intervention of a local Japanese Buddhist organization. Meanwhile, 18 members set off for the port town of Oarai, Ibaraki Prefecture, located 100 kilometers northeast of Tokyo.
Packed into two cars and a rental truck, they were on a mission to cook noodles and tofu.
"We are not professional rescuers, we are all volunteers," says Tzu Chi Foundation representative Tan Leong Tat. "In a disaster, our main priority is our own safety. We can't help if we become victims ourselves and take attention away from those who really need it."
Tzu Chi Foundation teams have operated in Afghanistan, Pakistan, Indonesia, Haiti, China and, previously in Japan, during the Niigata Prefecture earthquake of 2007, explains Tat.
"I've seen the Japanese response before and it's very calm, very efficient," he says.
"But even when victims receive food and blankets, they need something else--spiritual warmth. It's hard to raise your spirits when your food is cold. That's why it's important for us to go to where they are and prepare hot meals."
Oarai residents seemed unsurprised by the arrival of the Taiwanese volunteers and their unconventional comfort food after a 4.2-meter tsunami slammed into the town, cutting off electricity and water lines, but leaving buildings standing.
The Isohama neighborhood around city hall was relatively unscathed, save for the eye-level waterline painted on houses and factories. A short walk away, stores were open for business.
"I was expecting rice balls," said one 80-year-old woman waiting in a line of about 300 people. "I don't think I've ever had fried vermicelli noodles before, so it sounds a bit extravagant. But there's a first time for everything."
"I love Chinese food," said resident Aya Sato, for whom the taste brought back memories of San Diego and San Francisco, where she often dined in Chinatown.
"I didn't expect that here today, but nationality is one of the last things you think about at a time like this."
The mother of one left Oarai after the wave, but returned the next day so her son could join his friends.
"I'm not really sure how they reached us. We weren't the worst hit. There are a lot of communities that need more help than us. Still, for them to come here is a great comfort. It tells us we're not alone," says Oarai Mayor Takaaki Kotani, who offered the volunteers 20 liters of gasoline, enough for them to reach the next gas station on the highway to Tokyo.
"We realize we're still far from the places that need us most," says volunteer Ryu Kei-ei on the drive back. "It doesn't matter from where you start, as long as you act, and believe that somehow, some way, compassion reaches the people who need it."