Japanese Buddhism After the Earthquake: Memorials, Spiritual Comfort, and Emergency Response
by Howard Tsang, Asia Pacific Memo, March 31, 2011
Tokyo, Japan -- On the 7th day after the earthquake, at precisely 2:46 p.m., sirens rang out along Japan's northeastern coast. Millions paused, placing their palms together and bowing their heads to remember those who were lost. In the Japanese Buddhist funerary cycle, the living perform rites for the dead every 7th day, continuing until the 49th day after death. Spirits of the deceased are believed to spend 49 days traveling to their next rebirth.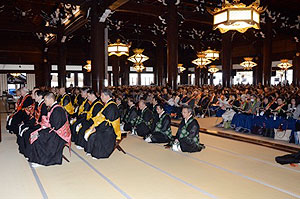 << Mass memorial at Higashi Honganji in Kyoto - (from bukkyo-times.co.jp)
As communities transition to harsh new realities, Japanese Buddhist groups are hard at work in expected ways, performing memorials for those lost and comforting those displaced. Perhaps unexpectedly, they are also organizing an effective emergency response.
Such Buddhist organizations' efforts are rarely documented despite a remarkable level of activity. The mainstream media is focused on sensational artwork, festival, or scandal, rather than the ways these organizations contribute to civil society. Yet, not only have Buddhist groups set up memorial services, prayers, and vigils, they have also created special bureaus to respond to the disaster.
These bureaus mobilize nation-wide temple networks, fundraise, coordinate assessments of affected areas, and arrange temporary lodging. They gather supplies to fulfill both the immediate and long-term needs of those who have lost their homes, providing food, blankets, heaters, and portable toilets. And, they dispatch priests, laypeople, and youth to deliver these supplies, to support the work of local followers, and to offer comfort. To date, Buddhist groups have devoted the equivalent of tens of millions of Canadian dollars in funds and organizational capacity to disaster relief.
One of these Buddhist groups, the Otani-ha, has a large membership and temple network in the affected region. Over one hundred Otani-ha temples and graveyards were damaged or flooded, a few extensively. In response, money and supplies have flowed from headquarters and parish districts throughout Japan, some collected at a mass vigil attended by over 4,000 people at the head temple in Kyoto, called Higashi Honganji. As well, a growing number of affiliated temples, schools, and meeting halls have opened their gates and are prepared to house displaced individuals and families for many months regardless of religious affiliation.
On the 49th day, the sojourning spirit settles into its new life. On the 49th day after the earthquake and tsunami, Japanese Buddhist organizations will be settling into longer-term projects of relief and reconstruction, actively facilitating the process of recovery, even as the nuclear crises and hardships of displacement continue. They perform rites, and work through their institutions, for a Tohoku and Kanto region reborn.
Article source: http://www.asiapacificmemo.ca/japanese-buddhism-after-earthquake
-------
Video: MOMENT OF SILENCE DATELINE: March 18, 2011
MOMENT OF SILENCE
by tvnportal