Buddhist priest trying to help quake victims, drawing from 9/11
Mainichi Shimbun, April 12, 2011
Tokyo, Japan -- After the March 11 quake jolted northeastern Japan and a deadly tsunami swept away coastal towns, New York-based Buddhist priest T. Kenjitsu Nakagaki shifted into gear, drawing from work with locals after the Sept. 11 terrorist attacks a decade ago to initiate memorials and other events around the city.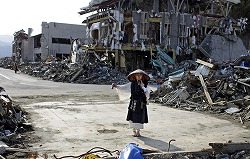 << A Japanese Buddhist monk prays at an area devastated by the March 11 earthquake and tsunami in Rikuzentakata, Iwate Prefecture, Japan, Sunday, April 10, 2011. (AP Photo/Sergey Ponomarev)
"If there is something important that I feel like I should do, then I just do it," Nakagaki told Kyodo News recently, explaining how he applied post-9/11 lessons to the Japanese disaster.
Now vice president of the Interfaith Center of New York, Nakagaki was about to leave for California to attend seminars that day -- his 50th birthday -- when he caught glimpses of the tsunami horrors unfolding in the Tohoku area on TV news programs.
Helplessly watching, while feeling the need to do something, he put his desire to serve temporarily on the back-burner to first lead the West Coast seminars.
Two days later at a Fresno temple in California, he participated in a memorial service there, further cementing his determination to organize a Manhattan event as soon as possible.
Targeting March 18 to mark the one-week anniversary, he then made numerous calls, quickly pulling together a basic program for a service before flying out on the night of March 14.
It included Christian, Buddhist and Shinto priests, Japanese and Japanese-American leaders, as well as a classical pianist, at a Christian church near the United Nations. The event later evolved to include a last-minute candlelight vigil as well.
"I think in spite of the time factor, it looked like a well-planned ceremony," the dynamic priest added.
With one success under his belt, Nakagaki then coordinated with the Riverside Church to assemble an even more diverse crowd on March 27.
There he joined Muslim, Jewish, Sikh, Hindu and Christian leaders to organize an "Interfaith Time of Reflection for Japan."
Despite incorporating various religious elements into the program, the priest said he purposely maintained an "Eastern" tone.
In addition to a haiku poetry reading and a "shakuhachi" bamboo flute performance, three Japanese from the most heavily damaged areas also spoke out.
Among them was Yoji Shikama, who was visiting his hometown in Fukushima Prefecture when he nearly lost his life on a highway that opened up during the magnitude 9.0 quake.
As the lead organizer of the events, Nakagaki emphasized the importance of conveying to the Japanese just how much New Yorkers stood by them during their darkest hours.
"I would like to carry the message through the media that New Yorkers are thinking about Japan," he said.
Such quick actions were what he learned in the wake of the 2001 terror attacks.
Although thousands of kilometers away from Japan's ground zero, the March disaster reminded him of the unforgettable day the World Trade Center's twin towers fell.
As resident minister of the New York Buddhist Church and president of the Buddhist Council of New York at the time, he learned to serve in ways he never imagined -- even participating in a Columbia University campus service that afternoon in the fall of 2001 -- for overflowing crowds.
Attending countless memorial services in the days and weeks afterward, the compassionate priest witnessed the important role religious leaders played in offering solace during the chaos.
The Osaka native contemplated closing the temple on the first Sunday after the attacks because of the unprecedented severity of the event. The doors, however, remained open.
"This was something different in New York," Nakagaki said, noting how many people sought spiritual guidance during the distressing time.
"Instead of waiting for someone else to do something, you did it," he added, remembering occasions when he and other clerics stepped in when needed.
Adopting a "New York attitude," he took on new initiatives -- even volunteering as a Ground Zero chaplain while fires still burned there.
Rather than being discouraged when a city-wide memorial service, held at Yankee stadium, did not include the Buddhist community, Nakagaki later organized one to honor the victims, including 24 Japanese nationals.
It is as a result of his firsthand experiences with 9/11 survivors and emergency workers that Nakagaki is now deeply concerned about the well-being of Japanese survivors who are struggling to rebuild their lives.
He is also worried about their relatives who may be living in New York or elsewhere, as well as for concerned New Yorkers.
"A lot of people talk about fundraising, but what about a cure for the hearts and minds?" asked Nakagaki.
Although no longer with the New York Buddhist Church, having retired from the post, Nakagaki continues with various activities, including teaching and lecturing, as a Buddhist priest.
The prominent interfaith leader is now looking to mark the 49th and 100th days after the catastrophe, which has so far claimed over 13,000 lives. Nearly 14,000 are still missing.
This reflects a similar approach he took back in 2001 to remember the 9/11 victims, marking those occasions as well.
According to Buddhist traditions, the first seven, 49 and 100 days, as well as the first year after death, are considered special times.
This fall, Nakagaki also aims to visit the Tohoku region in hopes of meeting survivors at shelters in the area to help them and listen to their stories of survival.
As the man who initiated the "toro nagashi" floating of paper lanterns, decorated with the names of the deceased, that became part of the annual 9/11 commemorations, Nakagaki hopes to include the latest victims in this year's 10th anniversary program.
"Somewhere in my mind this tragedy is not just a tragedy but helps bring people together," he explained. "I think that is part of the community consciousness and I think probably without 9/11 we would not do these things."