Kyoto rejects ceremonial wood over radiation fears
By Shigemi Sato, AFP, Aug 13, 2011
TOKYO, Japan -- Japan's former imperial capital of Kyoto apologised Saturday after rejecting wood from the tsunami-ravaged Pacific coast for a traditional bonfire festival over fears of radioactive contamination.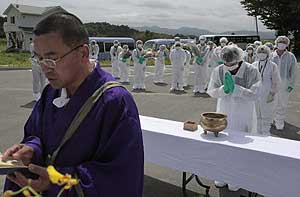 << A Buddhist monk chants sutras at prayers in Okuma last month for victims of the March 11 earthquake and tsunami (AFP, Str)
For centuries, Kyoto has marked the end of a Buddhist holiday season, during which ancestors' souls are believed to return home, by setting giant bonfires on mountains.
In modern times the event has been held every August 16, and Rikuzen Takata, a city in Japan's northeast devastated by the March 11 earthquake and tsunami, last month offered Kyoto wood from pine trees uprooted by the waves.
The double disaster left 2,140 people dead or missing in Rikuzen Takata -- about 10 percent of those who perished overall -- and left only one of the 70,000 pine trees that once lined its scenic coastline standing.
A total of 333 pieces of pine wood were packed for Kyoto, inscribed with messages to the newly dead such as "Big sister, you were a great cook," and "I want to see you," according to local media.
But the catastrophe also damaged the Fukushima Daiichi nuclear power plant, some 180 kilometres (110 miles) south of Rikuzen Takata, which has since leaked radiation into the environment from its crippled reactors.
The Kyoto bonfire organisers turned the offer down last week over worries about radioactive pollution, even though a test detected no radioactive substances in a sample of the wood.
Instead, the 333 pieces were ceremonially incinerated in Rikuzen Takata under the scrutiny of national media on Monday, in ritual blazes to welcome home the spirits of the dead at the start of the holiday period.
Kyoto's city office said it had received about 2,000 telephone calls and e-mails criticising the bonfire organisers for their action and accusing them of helping spread "harmful rumours" about radiation from the Fukushima plant.
Fears over radiation have damaged sales of farm and fishery produce from regions around the power station, while the government has banned beef from cattle which had been fed with rice straw exposed to nuclear contamination.
Kyoto city mayor Daisaku Kadokawa called on the organisers to accept a new batch of wood from Rikuzen Takata, but when 500 pieces of pine wood arrived minimal amounts of radioactive caesium were detected, leaving the city "no choice but to give it up," he said.
"We've made a heart-rending decision," he told a news conference Saturday. "I apologise to the disaster areas from the bottom of my heart."
Earlier, Japanese media carried comments from experts playing down the impact of the radiation, which had been recorded at 1,130 becquerels per kilogram in samples of bark, and none in samples of trunks.
"If you eat one kilogram of the bark and absorb it all into your system, it is still negligble," Ootsura Niwa, honorary professor of radiation biology at Kyoto University, told the Mainichi Shimbun.
Niwa, a member of the International Commission on Radiological Protection, added: "The decision, which demanded meaningless cleanness, has trampled on the feelings of people in disaster areas."