Japan tsunami survivors pray in summer Buddhist rite
By Yoko Kubota, Reuters, Aug 13, 2011
OTSUCHICHO, Japan -- In a little room of a small hillside temple that barely survived Japan's tsunami five months ago, Yuko Kikuchi knelt down, quietly sobbing and gently caressing the boxes that hold the bones and ashes of her perished mother and sister-in-law.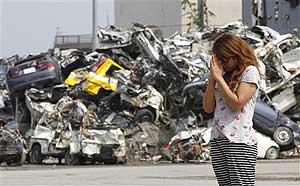 "It's harder now," 57-year-old Kikuchi, who came back to her devastated hometown Otsuchicho, about 500 km (300 miles) northeast of Tokyo, on Sunday to observe "obon," a series of annual Buddhist ceremonies in mid-August to honor the spirits of the dead.
"In the beginning, there were so many things I had to do and my feelings were high. But now that things are gradually settling, it's hard and I remember many things that we used to do without thinking deeply ... It was just so sudden."
Many survivors of the magnitude 9 quake and tsunami that struck northeast Japan on March 11 are trying to take a step forward in their shattered lives with obon ceremonies, which involve gatherings of extended family members, welcoming back the spirits of ancestors to homes, and praying.
But residents of Otsuchicho, still surrounded by burned and melted buildings and other reminders of the disaster, know that the annual festive mood they have long embraced won't be back this year.
"We can't celebrate obon like we used to until last year. But even though we can't recognize them in a visible way now, I believe talking about them with everyone and doing our best would help honor them, so I'm trying to stay strong," Kikuchi said.
The March 11 disaster left more than 20,400 dead or missing in Japan, and triggered the world's worst nuclear crisis in 25 years at the Fukushima nuclear power plant.
TIME AND SCARS
Kikuchi and her brother was in Dainenji, a Buddhist temple that survived the tsunami and fire that reached its gate. The temple is now temporarily housing cremated bones and ashes of more than 100 washed away by the tsunami and burned by the fire.
A big temple nearby burned down and heavy gravestones were knocked down all around, shattered by the force of the massive tsunami, which brought many followers of that temple to Dainenji.
Nearly 80 boxes containing remains of unidentified bodies lined up in the temple's hallway, while dozens more already identified rested in small rooms in the back of the temple, with relatives offering prayers in front of smiling portraits.
"We are sorry we could not find her until recently. At the weekend, we went around morgues many times. But we are relieved," said Shoetsu Kobayashi, 54, who came with his wife to honor his mother-in-law, identified last month with DNA testing.
A town of about 15,000 before the quake, Otsuchicho lost nearly 800 residents in the disaster, including its mayor, and more than 650 are still missing.
Rebuilding the town has not been easy. Five months on, many residents are still looking for jobs and the town is preparing for a mayoral election later this month so that reconstruction planning can go ahead.
Kobayashi and his wife Masako, who lost their mothers and their home, moved to temporary housing last month with their two sons. He was puzzled about how to prepare an obon altar -- an annual chore his mother took care of -- but said he was determined to observe the ceremonies as in the past.
"I only wish I'd done this before now," he said in front of the three-stage altar, where lilies and greens adorned his mother's photo, fruits and cakes were offered, and candles and incenses were lit. "But I think she would be happy in heaven."