His Holiness the Dalai Lama Visits Buddhists Temples in Japan
TibetNet, April 14, 2005
Tokyo, Japan -- His Holiness the Dalai Lama addressed a packed theater which has a capacity of 2500 people. At 3:30 after the lecture His Holiness departed for Tamana city in the evening. This public lecture was His Holiness? first in this prefecture.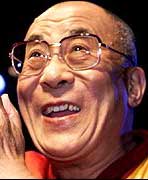 Dr. Murakami, a prominent Japanese scantiest and Ven. Eisho Kawahara, Chief Priest of Rengein Tanjoji Temple, met with His Holiness the Dalai Lama. They were accompanied by publishers of a magazine which will publish the conversations in one of its forthcoming issues.
His Holiness also visited Aso Shrine and Aso Mountain His Holiness was welcomed by the head priest of Aso shrine and head priest of Shogyoji Buddhist Temple. After a brief Shinto ritual of paying respect to the Shinto shrine His Holiness had lunch with the two head priest. Also present at the lunch was Ms.Hosokawa, wife of former Prime Minister Hosokawa.
His Holiness visited the Kyushu University of Nursing and Social Welfare on 12 April. He was received by the Principal of the University. His Holiness addressed the university?s students and staff on the importance of developing compassion for leading a meaningful life. The students and staff asked al sorts of question s to His Holiness. It was obvious that the students and the teachers thoroughly appreciated the talk. The principal expressed his university?s gratitude for enlightening the students and staff with wisdom and compassion.
His Holiness gave a Buddhist teaching at the Rengein branch temple which was thronged by thousands of people. This is the first time that His Holiness gave a teaching in a Japanese temple.
His Holiness met with a group of Japanese priests from different parts of Japan who have come for His teachings. His Holiness conducted a fire ritual at Rengein main temple
Kenpo lama of Mongolia Gandan monastery, priests from Sri Lanka, Vietnam and Burma called on His Holiness the Dalai Lama.
His Holiness told the local press that the visit is purely religious.