Dalai Lama Praises Japan's Courage and Resilience to Rebuild
by YC. Dhardhowa, The Tibet Post International, 1 November 2011
Tokyo, Japan -- Sharing suffering with Japanese people affected by the recent natural disasters, the spiritual leader of Tibet, His Holiness the Dalai Lama, Monday 31st October, praised their resilience to rebuild their nation from even from ashes as they did after the second world war.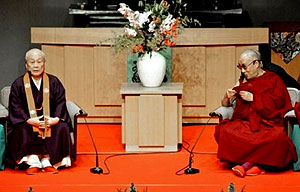 On his fourth day visiting Japan (Tuesday, 1st November), some 900 Japanese devotees received the preliminary Vajradhateshvari empowerment (Tib: Doying Wang) from His Holiness the Dalai Lama, at the auditorium of Koyasan University.
His Holiness the Dalai Lama also made a short pilgrimage to the mountain temple of the Great Sun Buddha, set amidst fascinating two hundred thousand tree-shaded mausoleums located on Mount Koya in Koyasan.
The Buddhist leader reiterated that more effort needs to be made towards bringing inner development. "Not only money and power, but self-centered attitude of thinking about one's own benefit alone cannot bring lasting mental peace and happiness. All the conflicts are caused by human being's self-centered attitude. Lasting happiness and peace of mind can be achieved through sense of loving-kindness and care for others' well-being," His Holiness said.
The spiritual leader of further said scientists have been taking special interests in studying human emotions to determine happiness and suffering. "Efforts in developing positive inner feelings such as compassion, love, patience and kindness will bring mental peace and happiness for oneself and other sentient beings," he added.
During the course of preliminary empowerment, His Holiness told the devotees to visualize that their minds have become like that of Bodhisattva, and pledge to renounce self-centered attitude.
"As a friend and same follower of Buddha, I feel honored to get the opportunity to share the painful suffering experienced by you after the recent natural tragedy," His Holiness the Dalai Lama told Japanese on Monday during a discussion with Japanese during Koyasan university's 125th founding anniversary.
Responding to questions on why people in the country suffered from natural disasters, His Holiness mentioned a number of causes such as the continuous evolution of earth, global warming and negative deeds in one's previous lives. His Holiness emphasised that enhancing the collective merit of the community could prevent one's past negative deeds to bear fruit. The collective merit can be enhanced through promotion of positive values of care for others' well-being, he added.
"However, one thing is very clear, all the suffering and conflict in this world is man-made," he said. "So, the solution lies in ourselves," he added.
His Holiness also answered questions on how peaceful mind and genuine happiness have to be achieved. "Perception of comfort through sensorial feelings and vested interest is transient. Genuine peace of mind and happiness could be acquired through our positive use of human intelligence, and values of love, compassion and care for others' well-being."
Elucidating on human intelligence, he said human beings have more power of using this faculty, due to which there is more tendency towards negative emotions like suspicion and frustration. On the contrary, if our intelligence is used for others' well-being, it would strengthen our self-confidence to generate happiness for both oneself and others, he added.
He further said there has been growing interest in the study of mind since the later part of the 20th century. Describing it as a positive change, His Holiness said people with peaceful minds were healthy at the individual, family, society and global levels. The Buddhism, which the scientists over the years have considered a form of science, can play an important role in generating a peaceful state of mind.