Japanese monk guards remains of tsunami unknown
By Shingo Ito, AFP, March 3, 2012
YAMAMOTO, Japan -- Hundreds of the 19,000 people killed by Japan's horrific quake-tsunami remain unmourned, their bodies never claimed because there is no one left to notice they have gone.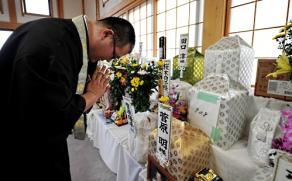 << Buddhist monk Ryushin Miyabe offering prayers in front of urns with ashes and bones of tsunami victims at the Myokoin Temple in Yamamoto. Photo courtesy: AFP
But one Buddhist monk has lovingly stored the ashes and bones of some of those whose names no one knows in the hope that one day they can be reunited with their families.
Every day for the last year, Ryushin Miyabe has offered prayers and lit incense for the souls in his care at the Myokoin temple in Yamamoto, a small town on Japan's tsunami-wrecked coast.
In late January he was finally able to hand over the remains of a five-year-old boy, known until then only as "No. 906", when the child's grandmother was identified through DNA tests.
The young corpse had been cremated in June after coastguards found it floating in the Pacific without any belongings, washed out to sea by the tsunami of March 11 that tore into the coast.
The grandmother told Miyabe that the boy's mother had also been killed in the catastrophe and she had been searching for her grandson's body for nearly a year.
With the boy's remains back with a family member, his spirit can pass into the next world, says Miyabe.
"I guess the boy has met his mother in heaven by now," he said. "She must have told him: 'Hey, you are late!'"
Buddhist tradition dictates that a body is cremated and the ashes are placed in an urn, along with the bones that remain.
The urn is put in a family grave, which Japanese traditionally believe to be the gateway to the next world, one through which souls can return every year during the summer festival of Obon.
The grave must be cared for by surviving family, who in return, expect spiritual protection from their deceased relatives.
Nationwide, 500 bodies recovered after the huge waves swept ashore have still not been identified, and more than 3,000 of those who died have never been found.
At one point Miyabe was looking after the ashes of 30 people, their remains entrusted to him by authorities overwhelmed by the number of people who perished.
After the five-year-old was reunited with his family, Miyabe's temple has only one small jar left.
"I will continue holding vigil, praying for the earliest return of the ashes to the victim's family who must be desperately trying to find the body," Miyabe said.
The majority of those who died in the tsunami were identified before being cremated and their families wanted full funeral rites.
Mortician Ruiko Sasahara prepared more than 300 often badly damaged bodies at makeshift morgues in tsunami-hit coastal towns, to allow relatives to bid their farewells.
As well as making funeral arrangements, morticians in Japan clean, dress and apply cosmetics to bodies in an effort to make them look as much like they did when they were alive as possible.
"My job is to help prepare the dead for their departure to heaven," Sasahara said at her office in Kitakami, 60 kilometres (35 miles) from the tsunami coast.
The practice, which is fading in bigger cities but remains fairly common in rural areas, came to worldwide attention in 2009 when "Departures" won an Oscar for its depiction of an out of work cellist who becomes a mortician in small town Japan.
Many of the bodies that Sasahara was called upon to patch up were in bad condition.
"I'd never seen bodies in such a state -- many of them smelled of decay, there was a lot of maggot damage and some of them were partial skeletons," she said.
But she knew that families desperately needed to be able to say their goodbyes and even resorted to using clippings from her own hair to remake eyelashes and eyebrows.
Sasahara said the process of repair is vital to protect the dignity of the dead and to ease the pain of those left behind.
"Many of the bereaved blame themselves for failing to save their loved ones," she said.
"When they once again see the smile of the person they lost, I think many people can feel they have been forgiven."