Massive investment losses rock leading Buddhist sect
THE ASAHI SHIMBUN, April 22, 2013
Kyoto, Japan -- One of Japan's oldest and largest Buddhist sects has been thrown into turmoil over hundreds of millions of yen in latent losses from risky fund management operations.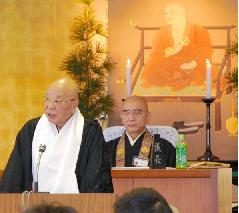 << Kosho Shono, of the Koyasan Shingon sect, talks about the investment losses in Koya, Wakayama Prefecture, in February. (Asahi Shimbun file photo)
The scandal has triggered a feud between the assembly of the Koyasan Shingon sect, its highest decision-making organ, and the executive body, which oversaw the investments.
The assembly has passed a no-confidence motion against Kosho Shono, who heads the executive body, accusing the executive body of submitting window-dressed fund management records.
The Shingon sect was established nearly 1,200 years ago by the renowned monk Kukai (774-835) during the Heian Period. Its head temple is Kongobuji on Mount Koyasan in Wakayama Prefecture.
Two religious corporations, Koyasan Shingon Buddhism and Sohonzan Kongobuji, have invested more than 3 billion yen ($30.05 million), including offerings from followers, since 2002. The followers were not informed of the investments.
The two corporations purchased a number of risky financial instruments, for example, those linked to domestic stocks and those denominated in currencies of emerging economies, such as Turkey, South Africa and Brazil.
Sales of some investment assets and accrued interest produced a gain of 1.63 billion yen. Meanwhile, other assets produced 690 million yen in losses, resulting in a net profit of 940 million yen.
Latent losses, however, hit 1.53 billion yen at the end of March 2011, days after the earthquake and tsunami disaster that triggered reactor meltdowns in Fukushima Prefecture.
The paper losses shrank to 700 million yen in February due to the falling value of the yen and rising stock prices.
Many members of the sect's assembly learned about the losses only last spring.
In February, the assembly passed a no-confidence motion against Shono by an 18-17 vote. Shono refused to step down, vehemently denying the accusation of window-dressing.
He dissolved the assembly instead, for the first time since Koyasan Shingon Buddhism was established as a religious corporation in 1952, a status that gives it tax breaks. New assembly members have been elected, and a three-day session is set to open on April 23.
The assembly has 37 members, with 10 designated by the head of the executive body and the remaining 27 elected by 5,500 priests at 3,700 temples around the nation.
Sonjin Ando, former chairman of the assembly, is preparing to submit a no-confidence motion again.
"We urge Shono to think about what is happening and step down before the vote," Ando said. "We hope he will show our followers that he can correct what is wrong of his own volition."
In an interview on April 19, Shono declared the accusation of window-dressing was groundless.
He has asked certified public accountants and lawyers to scrutinize the books. He said he will resign if any window-dressing is uncovered.
If the assembly passes a no-confidence motion for the second time, the issue will go to Yukei Matsunaga, supreme archbishop of the Koyasan Shingon sect. Shono will lose his job unless Matsunaga chooses to dissolve the assembly.
The Koyasan Shingon sect initially began making the investments to repay 1.1 billion yen it borrowed to purchase land on Mount Koyasan.
Shono, who took office in 2006, revised fund management guidelines to enable the purchase of risky financial instruments.
"We failed to downsize our budget, which had grown when we were able to reap generous profits," Shono said.
Kansho Mori, who heads the sect's finance division, said, "We thought priests would not be able to handle investments, but we blindly followed advice from brokerages and bought financial instruments."
The Cultural Affairs Agency's guidelines say assets held by religious corporations consist of offerings from numerous followers and should not be reduced through speculative investments.
But the guidelines do not include specific regulations.
The Japan Buddhist Federation says profits are not a primary purpose of religious corporations' fund management and the general rule is not to lose the money invested.
Takanobu Nakajima, an economics professor at Keio University, said the sect should be held accountable if it loses the bulk of its assets deriving from offerings from followers.
"Buddhism tells us to shed desires and attachments," Nakajima said. "It is not a goal to succeed in investments and increase assets. They should keep their expectations realistic."
(This article was written by Makoto Watanabe, Miho Iwamoto, Mayumi Ueda and Hirotaka Kojo.)