Priest uses eraser carving as a path to spread Buddhism
By RYOSUKE YAMAMOTO, Asahi Shimbun, June 19, 2013
OJIYA, Niigata Prefecture (Japan) -- With a cutter in his right hand and a 4-centimeter-square eraser with a paper pattern overlaid in his left, Kojun Asada starts carving.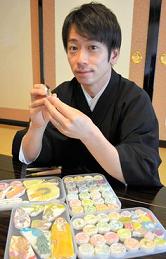 << Kojun Asada, a priest at Gokurakuji temple in Ojiya, Niigata Prefecture, makes eraser stamps with his favorite knife. (Ryosuke Yamamoto)
Moving the knife back and forth in small motions across the eraser, he creates a rubber stamp with an image of a smiling Buddha in just five minutes.
Asada, a Buddhist priest at Gokurakuji temple in Ojiya, has been traveling across the country, holding a Buddhism workshop combining eraser stamp carving and a lecture. He is hoping these sessions attract those who have been strangers to Buddhism.
Even before he started using erasers, Asada had another item he used as his canvas.
"I would carve Buddha images on the surface of a pencil while studying sutra," he said.
Asada first learned about eraser carving seven years ago, when he was preparing for an eco-bag making event for a free market to be held at his temple grounds. He came up with the idea of using erasers for a decoration with the help of his wife, who taught him how to make them.
He bought relatively large erasers and began carving, and got hooked. Asada honed his craft by reading a how-to book by Tomoko Tsukui, an Atami, Shizuoka Prefecture-based eraser stamp artist.
He began to teach eraser stamp carving at local events and made stamps upon the request of participants.
In late January 2012, when he acted as a volunteer to deliver relief materials and demolish disaster-stricken houses in Watari, Miyagi Prefecture, which was devastated by the 2011 Great East Japan Earthquake, he found the time to make eraser stamps for survivors.
Eraser stamps helped survivors open their minds and release their feelings, and they started talking about the March 11, 2011, disasters.
"What we made was just small talk, but their stories were from deep inside--something I could not have possibly heard if I had asked, 'Do you have any troubles or worries?' " Asada said. He was convinced eraser carving could help people connect, he said.
When he met Tsukui last summer, he proposed they jointly hold a workshop of her eraser carving and his preaching, which the artist agreed to participate in.
They formed a duo called "Shogyo Mujos" (All things are transient and impermanent), derived from a Buddhist term.
The first classes were held in Tokyo's Asakusa and Kamiyacho districts in December, followed by sessions in Kyoto, Osaka and Hyogo prefectures in March. Each event was almost filled to the seating capacity of 30 people, most of whom were women in their 20s and 30s.
At each session, participants carve a Buddha image of Tsukui's design.
After the craft class by Tsukui is over, Asada starts talking about the Buddha's teaching, in calm and simple terms.
"Even if you are using the same sample, your works slightly differ from each other," he said. "There is no superior or inferior work. Everyone's work is equal."
One participant said, "I felt (calm) as if I was transcribing sutras."
Another added, "I wish I could take more time to listen to the lecture."
Asada was hopeful about his new endeavor.
"Many priests want more people to come visit their temples," he said. "Eraser carving can play a role in connecting both sides."