Japanís Buddhist Temples keeping up with the times using DJs, apps, video games, booze and more
Rocket News 24, July 17, 2013
Tokyo, Japan -- While religions of all stripes have something to offer in terms of support and advice, they also share a common detriment: they're all really, really old. While age brings with it wisdom and experience, if religion can't relate to modern society it runs the risk of getting left behind.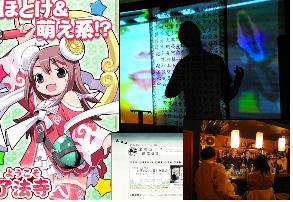 To help prevent this, several monks across Japan have been adopting new technology and trends or have tried simply reaching out to people differently, in less orthodox and more human ways.
Higher Tech Attainment
Walking around and looking at the masses of people with eyes looked on their smartphone it's hard to ignore the pull of digital media. Higan Temple has been at the forefront of tapping into cyberspace to expose the masses to Buddhism.
What started as a blog chronicling Kosuke Matsumoto's journey to becoming a monk has blossomed into a virtual online temple. Now several Buddhists and monks contribute articles offering their viewpoints on business, parenting, food, and more. The monks also answer questions asked via Twitter.
There is a small English section too where Mr. Matsumoto occasionally writes articles. The temple also released an app for iPhone and Android called Undo to assist in meditation.
Another website called Tera Koya Buddha works as a calendar of events for Buddhist related activities running the gamut from yoga classes to jazz festivals. Buddhist Temples have also be stepping up their game in the entertainment field as well.
Sutra Hero
One way to get recognition is to put out an interesting and entertaining product for people to latch onto. A few of our readers are likely familiar with Ryoho Temple, otherwise known as Moe Temple for its liberal use of moe characters all around the grounds.
A while back we reported on their video game Sutra Master, a rhythm game using traditional Buddhist "instruments", characters and symbols.
Well, it seems as if Moe Temple was just getting started in the video game business. Now they have released an RPG game for use on iPhone and Android called Welcome to Ryoho Temple [Free Training Yokai Card Game]. The game is a strategy-based card game which uses moe versions of about 1,000 different traditional Japanese creatures such as tengu and akaoni.
Parties
Another way to lure people with technology is to throw a kick-ass party. Earlier this year Gokokuji Temple held the Tibet Festival Tokyo with the participation of Tibetan monks. At the festival the temporary beauty of a sand mandala being made in-person could be seen.
However, after sunset the beauty of the temple gets kicked up a notch thanks to some projection mapping. Here's a time lapse video of the event.
Also earlier this year was Kohgen 2013, which held various religious events at four temples and shrines in Gunma Prefecture. In particular the Joko Temple event was a feast for the senses. Inside the main hall of the temple, incense was lit to mellow the audiences sense of smell, vegetarian food was served to tingle taste buds and a DJ and live band played along with cryptic projections on the wall. Perhaps next year the musical stylings Tariki Echo could be worked in.
Heartbreak and Hard Drinks
While flashing lights and websites are all well and good, they're a dime a dozen these days. Perhaps to really get in touch with people you have to get out of the temple and into the real world.
That's what a group of monks from various Buddhist sects did when they set up a bar. Geting away from all your worries sure would help a lot, so why not go where everyone knows a sutra – Vowz Bar in Tokyo. Listed as one of weirder theme bars in Tokyo with their Buddhist inspired cocktail names, it's the best place to go for some sagely advice after a hard day.
If drinking's not your thing you might be able to find one of the growing trends of sutra readings popping up around the countries. Here you can join a monk as they give you their own interpretations of sutras with interaction from the audience. It can be enlightening to see how those cryptic chants can apply to real life situations such as a break up or family dispute.
This is just a taste of what Buddhism is doing to stay active and relevant in Japan. Surely there will be more moe video games and electronica to come from this 2,500-year-old religion.