Priestly pair set out to boost 'Buddhism 3.0' across Japan
by Takeshi Nishide, The Japan Times, Aug 5, 2014
Tokyo, Japan -- A pair of Zen priests have been causing a stir with their campaign to spread a new interpretation of Buddhism in Japan that combines practices from separate branches of the ancient religion.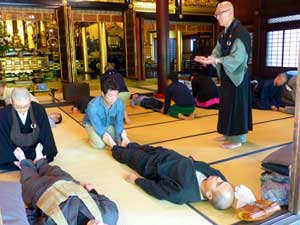 << Buddhist priest Issho Fujita instructs participants in a Zen mediation workshop at Sougakuji, a Buddhist temple in Nagoya, in late April. | KYODO
Issho Fujita and Ryodo Yamashita have been running workshops around the country based on their ideas, while a book they published last fall on how to update Buddhism in Japan has aroused strong interest, especially among young Buddhist priests.
Fujita, who was born in 1954, taught Zen meditation for several years in the United States.
Yamashita, born in 1956, studied Theravada Buddhism, the oldest branch of the religion, in countries including Myanmar and now serves as chief priest of a temple he founded in Kamakura, Kanagawa Prefecture. He has also taught Zen meditation in the United States.
A workshop that Fujita and Yamashita recently held at Sougakuji Temple in Nagoya attracted some 40 Buddhist monks and other people from across the country.
The workshop started with Fujita telling the participants to sit or lie as they like, rather than in the conventional form of sitting for Zen meditation.
"Listen to your body" and "don't overdo but relax," he said.
"You cannot deepen your Zen meditation unless you raise the level of bodily movements you do unintentionally in everyday life," Fujita said.
The instructions on meditation are in line with the concept that the pair call "Buddhism 3.0."
According to them, Mahayana Buddhism as practiced in Japan, after arriving in the country via China and the Korean Peninsula, is "Buddhism 1.0."
Having developed independently from its origin, it is sometimes criticized as having lost its substance.
Fujita and Yamashita call Theravada Buddhism, which became widely accepted in Japan in the late 1990s, "Buddhism 2.0." They say it offers specific skills to ease heartache.
The campaign by the two priests is aimed at fusing the Japanese style of Buddhism and Theravada Buddhism into a "Version 3.0? of the religion, in which mediation practices are not limited to those set out under Zen Buddhism.
The very foundation of Buddhism shared by all schools of the religion is to "return to Buddha meditating under the Bodhi tree," according to Fujita and Yamashita.
Later at the workshop, Yamashita told the participants to "wish for your own happiness" and then for the happiness of others.
He disagrees with the notion that the process is self-centered because it is a practice of "merciful mediation to purify negative things."
"Our minds can contain wild and mystifying urges, such as to break things for no reason other than our own pleasure," Yamashita said. "As it is egoistic not to pursue our own happiness, the ego dies if you pursue your own happiness. You can then wish for the happiness of others.