Buddhism undergoes modern twist to attract young people
By JUNKO SAIMOTO, Asahi/AJW, June 26, 2015
Tokyo, Japan -- Discussing love, using social media and pouring cocktails are a few of the methods Buddhist monks and priests are now using to gain followers in modern-day Japan.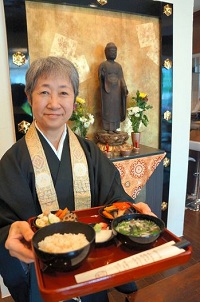 << The Tera Cafe Daikanyama coffee shop in Tokyo's Shibuya Ward serves various dishes, such as Buddhism-style vegetarian food and pancakes. (Junko Saimoto)
With the number of fervent worshippers dwindling, temples are trying to attract mainly young people while playing down Buddhism's association with funerals and death.
For example, a puppet play performed by monks and a Zen meditation session held in English were among the nearly 100 special programs offered on May 2-3 at Kogen, one of the world's largest temple- and shrine-related events, at Zojoji temple in central Tokyo.
Another program allowed visitors to conduct their own memorial services for dolls, while a booth was set up where guests could discuss their problems with monks.
About 6,000 visitors attended the event.
One was a 32-year-old woman who said she learned about the Kogen festival through Facebook and enjoys visiting temples and other "power spots" that are sources of mystical energy for superstitious people.
"I rarely have an opportunity to speak with a priest," the company employee from Tokyo's Ota Ward said. "I talked about love affairs today and was able to feel at ease."
Yuka Makita, 36, a homemaker from Koto Ward, brought her children to the festival.
"I did not consider temples as places to visit on ordinary days, but it is nice that children can play on the grounds," she said.
Kogen started in 2011, the year the magnitude-9.0 Great East Japan Earthquake and tsunami devastated the northeastern Tohoku region. In the aftermath of the disaster, young priests from various sectors organized the event, hoping to offer an opportunity for ordinary people to self-reflect.
The first Kogen drew only 70 visitors.
But the festival has grown in popularity with the introduction of various programs featuring Buddhism and Shintoism.
"We hope to present temple- and shrine-related cultures to the world with an eye toward the 2020 Tokyo Olympics," said Kakuho Aoe, 38, chief priest of Ryokusenji temple in Tokyo's Asakusa district who is also a vice representative of Kogen's organizing body.
On the other side of the capital in Shibuya Ward, the Tera Cafe Daikanyama coffee shop is attracting people who want to come into contact with Buddhism without going to temples.
Operated by Shingyoji temple in Kawasaki, the shop serves Buddhism-style vegetarian dishes in addition to ordinary cafe meals.
Three monks who work there in rotation offer advice to guests who are in difficulty. Customers can also join sutra hand-copying sessions and classes on making prayers beads.
Ejo Yamaguchi, 61, a monk of the Jodo Shinshu (True Pure Land) sect's Honganji school who works at the cafe, said she is also a certified psychological counselor.
"The existence of such traditional terms as 'kakekomi dera' (temples acting as refuges for abused wives) and 'tera koya' (temple-run elementary schools) means that temples are where people can seek advice or study," Yamaguchi said. "We have introduced a cafe because we want people to easily drop in on us."
Yamaguchi is the only female monk working at the coffee shop.
"I am often asked by women to listen to their stories about their children, careers and love, as they typically hesitate to talk with men about those things," she said.
Those seeking something stronger than coffee can go to Niso Bar Koenji (Priestess bar Koenji), which opened in May near JR Koenji Station. The bar is a sister shop of Vow's Bar in Nakano Ward, where a Buddhist priest serves as a bartender.
Candles light up the interior of Niso Bar, and smoke rises from sticks of incense. A real nun and clerks dressed as priestesses work at the counter.
Genko Shaku, a 61-year-old monk who has listened to various problems of customers at Vow's Bar for more than 10 years, said Buddhist priests currently have more opportunities to interact with ordinary people outside temples, partly because the stance of monks toward believers has changed.
"The religious community has reflected on its dependence on funeral Buddhism," Shaku said. "As fewer devotees now visit temples, the number of priests who are aggressively trying to reach out to ordinary people has increased."
Keisuke Higuchi, general producer of a rare TV variety show featuring Buddhist monks from various sects telling inside stories about Buddhism and their temples, explained why Buddhist priests can win the hearts of modern people.
"First of all, monks are good storytellers," Higuchi said. "It has been 2,500 years since Buddha started preaching his message, so Buddhist priests have many things to talk about. Topics they present to us probably seem new to modern people."