Missing Buddhist scroll from 12th century turns up in Nara temple
By KAZUTO TSUKAMOTO, AJW-Asahi, November 10, 2015
UDA, Nara Prefecture (Japan) -- A gold and silver-inked Buddhist text preserved at the Soyuji temple here has been found to be one of the famed Chusonji-kyo Sutras, a series of Buddhist manuscripts dating back almost 900 years.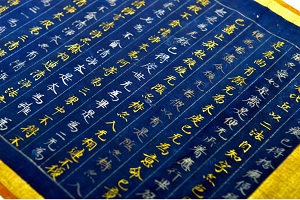 << A scroll kept at Soyuji temple in Uda, Nara Prefecture, that is a part of the "Issai-kyo in Alternating Gold and Silver Characters on Blue Paper," also known as the Chusonji-kyo Sutras (Kazunori Takahashi)
The temple had the scripture authenticated as part of a project to compile the sacred site's history and announced the finding on Nov. 9.
Measuring 22.6 centimeters by 33 cm, the manuscript is part of the series known as "Issai-kyo in Alternating Gold and Silver Characters on Blue Paper," but commonly called the Chusonji-kyo Sutras. The collection is said to date to the late Heian Period (794-1185).
Exactly how the scroll, on navy blue paper with 19 lines of about 17 characters each, became separated from the main collection is unknown and a source of intrigue. However, it is said to have been acquired by the Soyuji temple's head monk during the Meiji Era (1868-1912).
Soyuji temple practices the Yuzu Nenbutsu school of Buddhism, while the Kongobuji temple in Koya's Mount Koyasan, Wakayama Prefecture, where the bulk of the existing Chusonji-kyo Sutras are kept, is the ecclesiastic head temple of the Koyasan Shingon school of Buddhism.
The scripts are believed to have been transcribed between 1117 and 1126 at the behest of Fujiwara no Kiyohira (1056-1128), a warlord who consolidated the powerbase of the Oshu Fujiwara clan, then rulers of northern Japan.
The body of work was presented to the Chusonji temple, head temple of the Tendai sect in the Tohoku region, in present day Hiraizumi, Iwate Prefecture.
Centuries later, it was transferred to Kongobuji temple, one of the most sacred sites in Japanese Buddhism, by decree of warlord Toyotomi Hideyoshi (1537-1598).
Today, the Chusonji temple holds 15 scrolls and Kongobuji temple houses 4,296 of the sutras.