A Zen Buddhist temple experience in Kyoto
By Seamus Kearney, Euronews, Feb 23, 2016
Kyoto, Japan -- Any holiday in Japan will almost certainly have to include a visit to one of the country's vast number of beautiful temples and shrines; and for those who have the time, it's possible to take part in one of the many rituals performed there.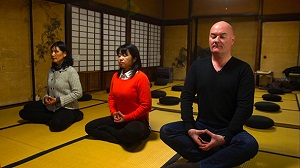 The popular city of Kyoto is just one of the places where tourists can seek out an authentic Zen Buddhist temple experience, for example, and really soak up the atmosphere of ceremonies that date back centuries.
The Shunkoin Temple is a popular spot for tourists, with tours carried out in English by the American-educated vice-abbot.
This temple is described as having been one of the most important places in Japanese Buddhist philosophy in the early 20th century.
Two of the most famous Japanese Zen Buddhist philosophers, D. T. Suzuki and Hoseki S. Hisamatsu, discussed the future of Japanese Buddhism at this temple.
Flowering azalea shrubs planted by Suzuku can be seen in the front garden of Shunkoin.
Shunkoin Temple, which means Temple of the Ray of Spring Light, belongs to the Myoshinji school, which is the largest of the 14 Japanese Rinzai Zen Buddhist schools.
The temple was built in 1590 and houses important historical objects including a 16th century Jesuit bell from Portugal.
Meditation classes are also available in the temple, with a comprehensive course on how to achieve the correct position and the feeling of a connection between the body and the mind.
The atmosphere is cosy and comfortable, and anyone looking for relaxation and a feeling of peace and tranquility is not likely to go away disappointed.
As well as being a temple, Shunkoin also offers a modern guesthouse, which was added in 2013. Each guest room is in typical Japanese style.
There is also much to explore around the temple, with the vice-abbot on hand to explain all of the objects, decorative art and exquisite gardens.
The temple is full of artistic and cultural references to Zen Buddhism, but those in charge here say there is also a deep connection with Shinto and Christianity.
Among the visual highlights are 19th century sliding door paintings by the famous Japanese artist Eigaku Kano.
For further information about the Shunkoin Temple you can visit: http://shunkoin.com
Also visit: www.jnto.go.jp/eng/location/regional/kyoto