Buddhist deity image emerges from Kumamoto Castle rubble
By CHIHIRO ARA, Asahi, May 16, 2016
KUMAMOTO, Japan -- Amid the damage and despair that have befallen historic Kumamoto Castle in the recent series of earthquakes, one discovery among the rubble provided a welcome source of illumination and inspiration.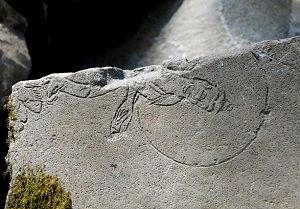 << This carving of the "Kannon bodhisattva" was recently discovered on one of the stones used in a wall at Kumamoto Castle. (Chihiro Ara)
One of the stones from a collapsed wall contains a carving of the "Kannon bodhisattva," a Buddhist deity known as the goddess of mercy.
The carving was apparently made in the 15th to 16th centuries before the castle was constructed by warlord Kato Kiyomasa (1562-1611).
"At a time when everyone's feelings are down due to the natural disaster, I felt that it seemed like a true light shining on us," said Takahiro Yuta, 44, the head priest of the Kato Shrine, located in the compound of Kumamoto Castle.
The main April 16 earthquake that struck a wide part of Kumamoto Prefecture in western Japan triggered the collapse of a stone wall at the site of the Kita-Ote Turret Gate. Some of the stones were scattered on the grounds of the shrine.
According to Yuta, the confirmation was made on April 23 that one of the stones contained a carving of the Kannon bodhisattva. The image is about 40 centimeters high, and the bodhisattva stands on a lotus petal base while holding what looks like a lotus blossom in its left hand. An aureole is also depicted.
Yuta wrote about the finding on the shrine's Facebook account on May 11, and by noon on May 14, about 75,000 people had read it.
Masao Minoguchi, 55, a senior researcher at a city-operated research center devoted to Kumamoto Castle, said the smooth, polished surface on which the image was carved indicates it was originally an "itabi," on which Buddhist images are carved to be presented as a religious offering. That stone marker might have been utilized in constructing the stone wall at the castle.
"It is a valuable material that gives us a glimpse into the lives of the people before the castle was constructed as well as what life must have been like at the time of the castle's construction," Minoguchi said.