Buddhist monk uses age-old wisdom to create driverless taxis
by Anna Kitanaka and Yuki Hagiwara, Bloomberg News, Jul 3, 2016
Tokyo, Japan -- Hisashi Taniguchi took a sabbatical from developing software for driverless taxis and drones to pilgrimage to a Buddhist temple in western Japan. He shaved his head, donned black robes and studied to become the shrine's leader.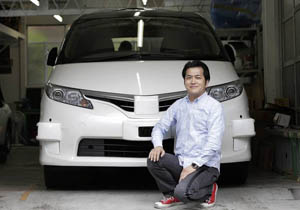 << Hisashi Taniguchi, president and chief executive officer of ZMP Inc., poses for a photograph in front of a vehicle equipped with an autonomous driving system using the company's technology at a garage in Tokyo, on May 17, 2016. Bloomberg photo by Kiyoshi Ota
He passed the test, yet within a week was back at the Tokyo offices of ZMP Inc., overseeing his robotics company in a more-typical wardrobe of jeans and red Converse sneakers. As ZMP's founder and chief executive officer, he tries to sync millennia-old teachings with efforts to make artificial intelligence part of everyday life.
"The temple teaches you that if you shine, you'll shed light on those around you," Taniguchi, 52, said. "Business is the same: products that are useful bring light to others."
For ZMP, those include self-driving taxis, portable heartbeat monitors, delivery drones and automated handcarts for transporting heavy loads. Taniguchi formed joint ventures with DeNA Co. and a Sony Corp. unit, and ZMP plans to hold an initial public offering in Tokyo as early as September, according to a person familiar with the situation.
Shoko Niino, a spokeswoman for ZMP, said the company declined to comment. Miwa Aonuma, a spokeswoman for Japan Exchange Group Inc., declined to comment on individual listings.
Koji Endo, managing director at independent researcher Advanced Research Japan, estimated the IPO will raise 200 billion yen-300 billion yen ($1.9 billion-$2.9 billion), based on the 2014 debut of Cyberdyne Inc., which makes robot exoskeletons that help people who can't walk. In November, ZMP conducted a 2,000-to-1 stock split. ArtSpark Holdings Inc. and Macnica Fuji Electronics Holdings Inc., which previously disclosed holdings in ZMP, surged.
ZMP wants to install self-driving software and sensors in taxis by the 2020 Summer Olympics in Tokyo. Prime Minister Shinzo Abe, who met with Taniguchi, vowed to implement autonomous-driving services at the Games, and he said the basic infrastructure will be ready next year. Taniguchi met with Abe in January 2015 to push for those changes.
"ZMP and the temple-it's connected, it's in the people."
Taniguchi studied chemistry before starting to work for a brake manufacturer. He started working on humanoid robots and decided he wanted a "music robot" to follow him around.
So he started ZMP and created one. Today, the company has about 100 employees and sales of about 3 billion yen, though Taniguchi forecasts that will reach 100 billion yen by 2020.
"I started by making things I wanted for myself," Taniguchi said, relaxing on a white leather sofa. "But I felt that was wrong. I now focus on creating products that are needed by people."
Taniguchi's business changed last year after meeting Hiroshi Nakajima, a vice president running DeNA's automotive business. DeNA operates a platform for online games and has partnered with Nintendo Co.
They formed Robot Taxi Inc. in May. DeNA, which created the mobile application, owns about two-thirds, and Nakajima is CEO. Self-driving minivans were tested without any accidents.
"I was particularly impressed by the desire that Taniguchi-san and other ZMP members had to not only develop new technology for its own sake, but to actually create something that would benefit society on a larger scale," Nakajima said in an email.
Taniguchi's focus on taxis developed at his temple, where many worshippers are elderly and don't own vehicles. Japan's population is forecast to decline 32 percent to 86.7 million by 2060, with about 40 percent of the people being 65 or older, which he says means fewer taxi drivers.
"The elderly in the countryside, children and disabled people-they're the ones that can't drive, and have a compelling need for it," Taniguchi said. "When I saw these old men and women having a hard time, I wanted to help."
His timing is right. Abe is promoting robotics-commercial and industrial-as Japan's technology future, with the sector's value projected by the government to reach 9.7 trillion yen ($93.1 billion) by 2035 from 1.6 trillion yen in 2015.
By then, about 12 million fully autonomous vehicles may be sold globally, with the market estimated to be worth $77 billion, according to the Boston Consulting Group. Tesla Motors Inc. and Alphabet Inc.'s Google are among those companies developing such vehicles.
Buddhist scriptures on selflessness and kindness are integral to Taniguchi's business philosophy, he said. His late father was a monk, though it was only about a decade ago that he started earning the qualifications to practice. Now he is an "ajari," or senior monk.
"ZMP and the temple-it's connected," said Taniguchi, who turns to meditation when he has a business problem. "A lot of my staff tend to stay calm and shun aggressive sales tactics."
The company first focused on developing walking robots, and its name stands for Zero Moment Point, a key concept in that field. There are 141 companies registered with a robot association group in Tokyo, and some of the well-known humanoids including SoftBank Group Corp.'s Pepper and Honda Motor Co.'s Asimo.
Asked what differentiates ZMP, Taniguchi highlighted his work on optical sensors and software-the eyes and brains of the machine-instead of the cars themselves. That suits domestic automakers such as Nissan Motor Co. and Honda, who tend to buy this kind of technology from suppliers, Endo said.
"ZMP's strength is in what you could call the core of automated driving: the brain, or AI," Endo said. "ZMP's tech is far superior."
Taniguchi, who wears his hair in a bun inspired by the styles of samurai warriors, brings visitors around the corner to see a modified Estima, Toyota Motor Corp.'s hybrid minivan. Small lenses and sensors dot the white chassis, and a computer screen sits above the passenger seat.
This system can be installed in any vehicle-just like Google's Android software can be put in most smartphones-meaning taxi companies aren't bound to one manufacturer if they want automated vehicles, Taniguchi said.
ZMP's long-term plans include expanding his driverless taxi business to China. Sony wants to use its drone venture with ZMP, called Aerosense Inc., to offer commercial services for the construction, logistics and agriculture industries, and expects sales of about 10 billion yen by 2020. ZMP also is close to releasing automated carts that can deliver packages from the store.
"There are a lot of monks in this world," Taniguchi said. "There aren't a lot of people who are trying to change the world with robots. It's a place where I'm one of the few that can contribute to the world in this way."