Buddhist altar makers recreate armor worn by feudal clan chief
By HIROSHI ONO, Asahi Shimbun, August 28, 2016
HIKONE, Shiga Prefecture (Japan) -- Artisans in various fields banded together to recreate a suit of armor worn by Ii Naotaka (1590-1659), a feudal lord of the Hikone domain.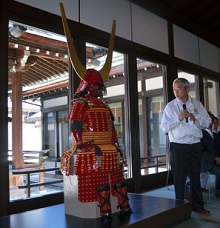 The Hikone Chamber of Commerce and Industry and its partners hope that armor products can become a commercial success while showcasing the excellence of local craftsmen.
At the heart of this plan lies the "Hikone Butsudan" Buddhist altar manufacturing industry.
According to tradition, artisans involved in manufacturing weaponry switched to producing Buddhist altars during times of peace.
The "Hikone Premium Katchu," the name of the prototype armor suit, weighs 23 kilograms, and its trunk part is 41.1 centimeters high.
The suit is more than 2 meters tall when the "o-tentsuki," a pair of horn-like ornamental features extending from the headpiece, are included.
Manufacturers of Buddhist altars, who hold the government-certified title of "masters of traditional crafts," began making the armor in June last year.
The art of creating "sane" metal platelets, the main components of armor, has not been handed down to present-day manufacturers of Buddhist altars. So the workers sought help from those who know the art, including Senzo Yamagiwa of the Shiga Metal Board Industry Association who lives in Otsu, Shiga Prefecture.
Together, they decided to make the platelets from copper, which is more workable than iron used in the original.
They also enlisted the help of Kazuyuki Mori, a leather bag manufacturer in Hikone, to procure leather products for tying the "sane" platelets together.
"The way the works of many artisans were put together into one (for the armor) bears resemblance to how Buddhist altars are being manufactured in our time," said Takaaki Miyagawa, director of the Hikone Butsudan industry cooperative association.
It took nine workers 14 months and 5.86 million yen ($57,000) to create the prototype armor suit.
Officials said armor suits available on the market, including those used in filmmaking, cost between 200,000 yen and around 1.7 million yen.
They said the key to success for prospective commercialization of armor suits is to simplify the manufacturing process while emphasizing the high technological caliber of traditional handiwork as opposed to mass production.
The armor will be shown to the public at events, exhibitions and other venues, the officials added.