This Japanese robot can host low-cost Buddhist funerals
by Matthew Field, The Telegraph, 24 August 2017
Tokyo, Japan -- Robots have been accused of taking people's jobs and stealing sexual partners. Now, they could also be used to give humans their last rites.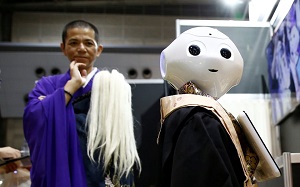 << Pepper the robot priest and a Buddhist monk in Japan
A Japanese company has found a new role for Softbank's Pepper robot: a Buddhist priest-for-hire. Plastics manufacturer Nissei Eco has trained Pepper to read scriptures, chant prayers and tap drums as part of a funeral ceremony.
The company uses the four-foot tall humanoid Pepper, which to date has been put to work as a family robot, in nursing homes and as a bank assistant.
The robot debuted at a "Life Ending Expo" in Tokyo, where Pepper was dressed in ceremonial robes for the funeral industry.
Nissei Eco hopes to charge around 50,000 Yen (£350) for the use of the funeral robot as a low cost alternative to hiring a priest, the Japan Times reported. The cost of funerals has gone up significantly in Japan, with the services now costing several million yen. Burial plots can cost even more.
Pepper was designed to help address Japan's rapidly ageing population. The median age in the country is 46 - one of the world's highest - and its birth rate has fallen to a record low. Pepper can offer companionship and help with small tasks around the home.
Softbank has sold around 10,000 of its Pepper robots, which have been marketed as a "social companion for humans. The robots have been applied in a range of industries, including mentoring former prisoners and running their own shop.
But users have been warned that family companion robots could be a risk to the home after hackers were able to take control of robots manufactured by Softbank, UBTech and Universal, which could be used as spying tools.