Transfixed at the temple
By Jim Eagles, Travel, Feb 28, 2006
Kyoto, Japan -- The monks in their robes chanted in a deep sonorous rhythm, bells tinkled and cymbals clashed, the smell of incense wafted through the air and the huge golden Buddha smiled serenely down at my aching knees.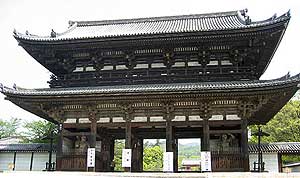 << The Niomon gate (Two Kings Gate), Ninna-ji Temple, Kyoto, japan
As a guest at the venerable Ninna-ji Temple, in Japan's ancient capital of Kyoto, I had the privilege of being allowed to join them in their early morning devotions in a part of the complex which is locked away when tourists are let in.
Thanks to the three-hour time difference between New Zealand and Japan getting to the temple by 6am was not a problem but my Western knees, already stiff from sitting on the floor in the temple restaurant, did find kneeling a little hard.
But then the ceremony began and I largely forgot the aches amid the fascination of it all.
Just in front, his back to us, the elderly abbot presided over the ritual, his hands constantly in motion, ringing a small bell, striking a gong, waving a small incense burner or leading the chanting with the aid of his prayer beads.
Right in front of him were the images of Buddha and his attendants, shiny with gold but darkened with age, gazing down inscrutably at the ceremony.
On either side other monks chanted in chorus, sometimes reading from books and other times putting their fingertips together in prayer, one regularly using a pair of cymbals to produce a long, ringing note.
A small Japanese boy, who was among the dozen guests, started to join in the chanting at one stage but his mother quickly shushed him.
The rest of us kneeled in silence - sometimes changing position to relieve aching joints - and soaked in the atmosphere.
I remember years ago going into St Paul's Cathedral in London while the choir was practising for evensong and an aggressively atheistic friend said, "This is so beautiful it's almost enough to make you religious."
The Buddhist ceremony, its ritual, timing, scents and intonations honed over the centuries, was much the same.
It wasn't necessary to be Buddhist to be moved.
Afterwards the abbot, a solidly built man with close-cropped hair, wire-rimmed glasses and twinkling eyes - a bit like the Dalai Lama - spoke to us about the proud history of the temple.
According to my guide's whispered interpretation it was founded in 887 and down the ages several members of the royal family, including emperors, served as abbots.
At its height the temple consisted of more than 60 buildings, most of which were razed during wars, but it is still a huge complex.
The abbot invited us to kneel before a small brazier, drop in a pinch of incense, and ask Buddha for a blessing.
Then he summoned a younger monk to show us round the grounds.
While other monks were closing doors and shutting Buddha away from irreverent eyes our mentor drew attention to identical figures at the end of the roof on the front porch. What did we think they might be, he asked with a grin.
As a clue, he added that they dwelled in the sea and lived to a great age. Still no idea? Turtles. Not just any turtles but a special kind that live at the bottom of the sea and come up to the surface once every 2000 years.
The turtle figures - which seemed to have humans riding on their backs - were apparently chosen because the buildings kept on being burned down by wars or lightning strikes and it was hoped they would give the temple long life.
So far it's lasted some 400 years so the idea seems to have worked.
Obviously enjoying himself, the monk later pointed to dragons on the roof of another building where the trainee monks work, and asked if they were boys or girls.
The clue this time, after a puzzled pause, was that if you looked closely they had moustaches and beards.
Most of the buildings at Ninna-ji are fairly typical of Japanese temples.
But our guide did point out that the surrounding walls have five lines in them which, he said proudly, only the great temples may use.
Another special feature was a small shrine containing a stone figure which was washed away in a flood many centuries ago. One of the monks evidently dreamed that the figure wished to return to the temple, it was found and the shrine erected.
While we were inspecting this a line of trainee monks arrived, part way through a morning circuit of the grounds, and chanted their respects to the figure.
Later, when I returned to that shrine to take a photo, I found a number of early morning worshippers hastening through the newly opened gates to pay their respects to the figure before going to work.
Ninna-ji also contains a famous grove of unusually short cherry trees - made to look even more dumpy by the lofty five-storey pagoda looming over them - which draw huge crowds at cherry blossom time.
However, our monk commentator scoffed at a suggestion there was some deep significance to this and said it was just that the soil under the trees was thin and the roots ran into a layer of rock.
By now it was time for breakfast, the monk departed to his eating hall, while we headed for the dining room at the temple's guesthouse, a building in traditional style sitting beside the main entrance to the complex.
I had arrived the the evening before a little nervous, not knowing what to expect from a temple guesthouse, but there don't seem to be any special rules other than paying up.
As with any living area in Japan you have to leave your shoes at the entrance and clop around in ill-fitting slippers. I did try going barefoot, which was much easier, but the matron who guards the entrance caught me and said, "Slippers, slippers," while pointing firmly to the footwear change area.
My room was huge, big enough to hold eight of the traditional woven tatami mats, which probably means it can sleep that many people at a pinch.
There was a very comfortable bed on a sleeping mat on the floor, a sitting cushion and a low table with teamaking equipment, and a wooden stand with several coathangers.
And, despite this being a 1200-year-old temple, there were two airconditioning units, a TV set and a fridge full of beer and sake (at very cheap prices!).
The ultimate test is that I slept well - apart from the intrusion of the outside world in the form of a motorbike without a silencer which roared past about 1am - until it was time for temple duty.
The biggest drawback was that the communal washing and toilet facilities were on another floor some distance away.
But, as a plus, those facilities included a traditional onsen or communal hot bathing pool and after a hard day exploring temples and shrines I needed a good clean-up.
I have to confess that after a good English Protestant-style upbringing I wasn't too sure about communal nude bathing and was initially relieved to find the place was empty.
Then, just as I was finishing undressing, a stocky young Japanese arrived, whipped off his clothes in a trice and headed for the bathroom.
I followed, copied him in giving myself a good shower, and plunged into the piping hot pool. Soon we were having an amiable if confusing conversation. It was, as I had been promised, a very relaxing experience.
My new friend also proved invaluable when it came to drying with the dishcloth-sized towel provided. He turned the fan up to maximum and we waited until the wind blew us dry.
The guesthouse also offers meals - though you can eat out if you wish - in a huge dining room with the traditional low tables and floor seating.
It's typical Japanese fare with plenty of noodles, rice and tofu with the taste provided by the usual pickles, fish, soy sauce, vegetables and miso broth.
At around Y8400 ($106) for bed, breakfast and dinner, and only Y12,600 ($160) for two, it's not bad value.
But the best part is the opportunity to wander round much of the temple while the gates are closed, looking at all the shrines, buildings and gardens, listening to the monks chanting away, and for a short time joining in their devotions.
It's the chance to enjoy a unique experience.