Buddhist statue at site of deadly Amagasaki derailment opened to public
Mainichi Shimbun, April 22, 2006
AMAGASAKI, Hyogo (Japan) -- A Buddhist statue set up to mourn the victims of the deadly Fukuchiyama Line train derailment here was publicly unveiled on Saturday on the grounds of the apartment block that the derailed train slammed into.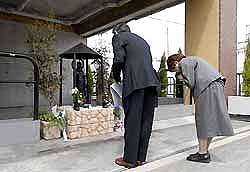 << Residents pay their respects in front of the Jizo statue set up to mourn victims of the April 25, 2005, train derailment in Amagasaki, Hyogo Prefecture, on Saturday.
Local residents visited the apartment block to pay their respects after the "Jizo" bodhisattva was unveiled.
All 47 households in the "Effusion Amagasaki" apartment block were moved after the April 2005 derailment, but volunteers set up the 1.5-meter-high bronze Jizo at the edge of a parking lot on the first floor of the apartment block in September last year, saying they wanted to pray for the souls of the victims.
The bronze statue had been blocked off with a fence, with only bereaved family members and those injured in the derailment allowed in, but the area was opened to the public on Saturday when local residents said they wanted to pay their respects as the first anniversary of the accident approached.
On Saturday, patients at a health center for the elderly joined health workers and made a visit to the statue.
"This past year must have been tough for the bereaved families," one 53-year-old worker said.
The statue will be on public display until April 26. The area will be open between 9 a.m. and 7 p.m. from Saturday to Monday and on April 26, and between 7:30 a.m. to 10 p.m. on April 25, the first anniversary of the derailment.