Secularism is the basis of all religions: Dalai Lama
By Tsering Tsomo, Phayul, November 10, 2006
Tokyo, Japan -- His Holiness the Dalai Lama said Friday that secularism is the basis of all religions. "Secularism does not mean rejection of all religions. It means respect for all religions and human beings including non-believers," he said speaking to a crowd of 8,000 Japanese and foreigners at Ryogoku-Kokugikan stadium in Tokyo.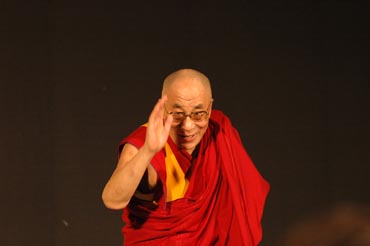 << The Dalai Lama greeting thousands of Japanese audience at the end of his talk on Good Heart: Key to Health and Happiness at the Kokugikan auditorium in Tokyo. He said, "Love and compassion attracts, hatred and anger repels." He also appealed for nuclear disarmament and that the 21st century should be made a century of dialogue. (Photo: Lobsang Wangyal)
"I am talking to you not as a Tibetan or a Buddhist but as a human being having a friendly discussion and sharing my experiences on the benefits of cultivating basic human values."
The exile Tibetan leader in his lecture on "A Good Heart – The key to Health and Happiness" emphasized on cultivating secular ethics which he said has nothing to do with religion but benefits all human beings. He said strengthening inner values of warmheartedness and compassion benefits both believers and non-believers in leading a happy and meaningful life.
Underlining the importance of internal and external values for a happy life, he said Japan has the potential to combine both values with its rich spiritual tradition and technological progress. "You have a rich spiritual tradition. The Shinto values of protecting nature and respect for the environment are relevant to this day. Buddhism as Japan's traditional religion teaches humane values."
Responding to a question from the audience, he said Japan is the most relevant nation in taking the lead towards abolition of nuclear weapons as the country had suffered the deadly impacts of history's first nuclear weapon. He also called for a complete ban on arms sale especially to undemocratic nations.
"Peace does not mean absence of conflicts. Differences will always be there. Peace means solving these differences through peaceful means; through dialogue, education, knowledge; through humane ways," the Dalai Lama said amidst a thunderous applause.
To a request from the audience to hold the next Kalachakra teachings in Japan, the Dalai Lama said it could be organized if there were sufficient interests among the people.
Friday's event was organized by the Tokyo-based Liaison Office of H.H. the Dalai Lama for Japan and East Asia.