Buddhist organization raided over forced membership allegations
Mainichi Shimbun, Nov 11, 2006
Kanagawa Prefectural Police investigators leave the headquarters of Kenshokai in Saitama Prefecture on Thursday carrying boxes of seized items.

YOKOHAMA, Japan -- Police raided the headquarters of a Buddhist religious corporation and seven related facilities on Thursday, and arrested three members accused of forcing people to join the organization, law enforcers said.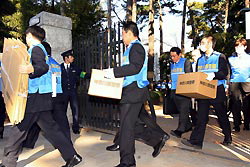 Some 120 investigators took part in the search of the religious organization, Kenshokai, based in Saitama. Police said they had received 511 complaints and reports about the organization over the past five years and decided to launch a search on the possibility that the organization was systematically involved in forcing people to join, as there were similarities in the reports they received.
Arrested was Masanori Okawa, 28, and two other members, aged 19 and 30.
Investigators said the three invited a 20-year-old student they met at a video game arcade in Atsugi to dinner at about 7 p.m. on Sept. 24, and encouraged him to join the organization, saying "When one woman was converted, her cancer was cured."
After taking him to the Buddhist organization's Odawara Kaikan building in Odawara, they allegedly pressured him to give them his name and address and forced him to pray over a period of about two hours. The three have reportedly admitted to the allegations.
At about 8:30 a.m. on Thursday, about 50 investigators dressed in suits turned up at the organization's Saitama headquarters, and roughly 10 minutes later about a dozen uniformed riot squad officers arrived. Members entering and leaving the building appeared surprised, but there was no major trouble.
Police said Kenshokai has a nominal membership of 1.18 million people.